I've been contemplating writing this post for a while now and decided to finally bite the bullet. I have a family of three (two adults and one six year old) and each week I challenge myself to see how little money I can spend on groceries while still providing my family with the healthiest foods I possibly can. So far, in North Carolina, I have been able to accomplish this for $50.00 USD per week. This price will fluctuate depending on where you are in the United States. I also spent a little more because we prefer to eat organic and grass fed whenever possible (ex. I purchased 3 lbs of Organic Grassfed ground beef for $12.99, the regular ground beef today was $2.39/lb — a difference of $5.82). I did not account for dietary restrictions as we have none. I shopped at Lidl, but I hear it's comparable to Aldi.
I will admit that I shopped my pantry for a few items, only because I already had them on hand. These items include:
Dried black beans
Two cans of diced tomatoes
Cornstarch
Various Spices
Olive Oil (for non-stick cooking purposes)
Apples
Peanut Butter
Maple Syrup
Chicken Broth Powder — I LOVE this cost-effective brand.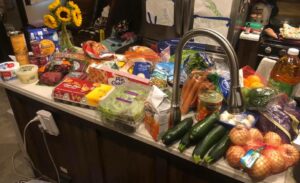 Breakfast:
We do a simple breakfast. Something quick, but filling. Often times we do oatmeal, but not this week.
My husband will have Instant Pot Starbucks Bacon Gruyere Egg Bites, I make these in advance and freeze them. I pop them in his lunch at night so they're thawed by morning and ready to pop into the microwave to heat up. The great thing about this recipe is you can substitute the meats and cheeses as you wish. Instead of doing gruyere this week, I will use some of the parmesan I purchased for another recipe. I can also use mozzarella, cheddar, or whatever I wish!
My child and I will have eggs and toast most mornings. She loves hers over hard with a bit of salt and pepper. I prefer mine scrambled with a bit of cheese. Earlier in the year I canned a bunch of Strawberry Jam, so we will enjoy that on our toast some mornings. She also enjoys apple slices and oranges for a side of fruit.
We may even use some of the chicken breast or sliced turkey to do omelettes!
Lunch:
Lunches are pretty simple. Leftovers, normally, since we don't like to let food go to waste.
If there aren't any leftovers, we will do a salad with some cooked chicken breast on top or turkey and cheese roll-ups with apples or oranges. A favorite of ours is sliced apples with peanut butter on top.
Egg Salad Sandwiches are also an option. We love to cook our eggs in our Instant Pot. Learn how HERE.
Snacks:
Goldfish Crackers
Apples with Peanut Butter
Celery sticks w/ peanut butter
Raw Sweet Potato Sticks
Oranges (or whichever fruit is in season or in our home)
Homemade cookies, if we have the ingredients for them. These Gingersnap cookies are a favorite.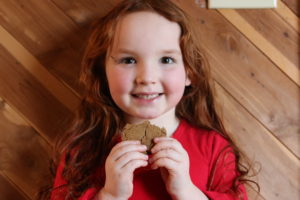 Dinners:
I am sure this is the part you're waiting for. I will go ahead and place the recipes we are using this week in a list, and you can pick and choose according to your dietary restrictions. As I mentioned above, I did not account for these as we do not have any. Please click the link to take you to the recipe.
 Chicken Pot Pie – If you have butter/shortening and flour and know your way around the kitchen, you can easily skip the store bought pie crust.
Honey Lemon Chicken with Green Beans — this is served over rice
Oven Baked Chicken Fajitas – I prefer to used just plain petite diced tomatoes versus Rotel. I also top with shredded cheese and sour cream. There's already so much "salsa" flavor in the filling itself that you really don't need it.
Sweet Potato Sloppy Joes – Sometimes we eat these with buns, other times over bread, and often with Sweet Potatoes, as noted in the recipe. Either way, this is one Sloppy Joe recipe that you will want to save!
Crockpot Sweet Potato Stew – Please note that I purchased a sirloin steak on deep discount for this recipe instead of a chuck steak.
Slow Cooker Honey Garlic Chicken – I will skip the potatoes in this recipe, since we do not eat potatoes very often.
Maple Glazed Chicken & Sweet Potatoes 
Caramelized Balsamic Onion Burgers – We will eat these in either a lettuce leaf bun, or I will make homemade buns. To save money, you can use the leftover buns from the Sloppy Joes, if you have leftovers. Also, I realize these call for ground turkey. My husband loathes g round turkey so I will use ground beef.
Chicken Noodle Soup – Complete with homemade noodles. I will use chicken breasts instead of thighs since I purchase breasts in bulk.
Tortilla Soup – Again, rotel will be substituted for petite diced tomatoes. You can also use leftover tortillas from the chicken fajitas as topping. Simply slice into strips, spray with cooking spray, and toast at 400* for just a few minutes.
Steak with green beans – This is just a traditional steak on the grill, so seasonings are completely up to you. My husband only uses salt. I was able to purchase the sirloin steaks on sale, which is why this is included in this weeks meals.
LEFTOVERS – Do not forget to include one day where you clean out the fridge of all leftovers.
It's important to note that we do serve a small side salad with each dinner. The only exceptions will likely be the Zucchini baked "ziti" and both soups since they're already filled with vegetables.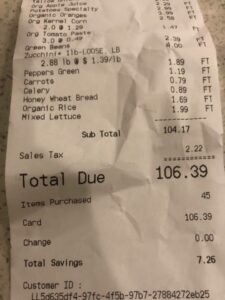 So, there you have it. My personal meal plan that will feed my family for two weeks for only $106.39. $3.99 of that was flowers, haha, so really, two weeks of meals for $102.40 — or $51.20 per week!
I promise my child really eats all of the foods I have listed above. In fact, she helped me meal plan this week!
If you have any questions, please comment below and I will try to get back to you as soon as I possibly can!