It's starting to cool down here in Northern Michigan so I figured it was time to pull out a pasta recipe. This Penne Rigati and Meatballs recipe is packed full of flavor, and really simple to make. Pair it with a side salad and dinner is served!
Ingredients:
Meatballs:
1 cup Panko Breadcrumbs
3/4 lb ground pork
3/4 lb ground beef
1/2 tsp salt
2 eggs, beaten
1/4 cup milk
3 gloves garlic, minced (Check out our favorite garlic press HERE)
3/4 cup parmesan, grated
1/4 cup flat leaf parsley, minced
1/4 tsp black pepper
1/4 cup olive oil (for frying)
Sauce:
3 cloves garlic, minced
1 medium white onion, diced
1/2 cup red cooking wine (you can omit this, if preferred)
One 28oz can diced tomatoes
One 28oz can crushed tomatoes
1/2 tsp salt
1/2 tsp black pepper
2 tbsp basil, dried
1/4 cup fresh parsley, minced
1 tsp sugar
2 lbs penne rigati pasta, cooked al dente
Directions:
Meatballs:
Throw in the meat into a large mixing bowl. Add the breadcrumbs, Parmesan, milk, parsley, garlic, eggs, salt and pepper. Use clean hands to mix together until well combined.
Roll (or scoop) into small balls. Place into freezer for 5-10 minutes to firm. Recipe should yield approximately 28 meatballs
Heat olive oil in a skillet. (We highly recommend this one)
Working with 10-12 meatballs at a time, cook them until brown but not cooked all the way through, 2- 3 minutes per batch. Remove from the pot to a plate while you make the sauce and set aside.
Sauce:
Sprinkle a bit of olive oil into a large cooking pot and heat on medium heat.
Add onions and minced garlic. Cook for 1 minute to soften onions.
Add both remaining sauce ingredients, cover, and simmer on low for 30 minutes. Stir frequently.
Place meatballs into sauce. Simmer on low for an additional 20 minutes, only stirring once or twice.
Cook pasta according to package directions. (Kitchen tip: Add 1 tsp of white vinegar to your pasta water to prevent water from boiling over. You can thank me later.) Drain.
Serve meatballs and sauce over Penne Rigati. Top with fresh parsley and a bit of parmesan cheese.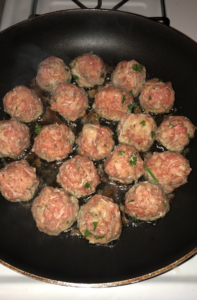 We usually have plenty of leftovers with this one, and we all know tomato-based sauces are always better the next day after they have set in the refrigerator!
Enjoy!