One of my husband's favorite things in the world is breakfast. Unfortunately, with a 6 am start time at work, he doesn't get a full breakfast on the weekdays (I covet my sleep a little too much! Sorry, babe!) However, I can make sure he gets some form of nourishment by preparing these Copycat Starbucks Bacon Gruyere Egg Bites in advance. Thank goodness for my Instant Pot!
They're really simple to make and will save you a small fortune versus swinging by Starbucks every day and getting the original egg bites! This recipe will yield 13 egg bites.
Ingredients:
8 large eggs
1/2 cup gruyere cheese, shredded
1/2 cup cottage cheese
1/2 tsp salt
1/2 cup monterey jack cheese
6 slices bacon, cooked and crumbled
Directions:
Place all ingredients except bacon in a blender and blend until uniform
Stir bacon into liquid mixture
Scoop into 1/4 cup increments into your Instant Pot egg mold (This one is our favorite!) Secure lid onto the mold.
Place 1 cup water into the bottom of Instant Pot.
Carefully set your filled mold into the Instant Pot and place lid on Instant Pot
Set to 8 minutes on high pressure setting. It will usually take 5-10 minutes for the Instant Pot to come to pressure.
Once finished, do a manual release and remove mold from Instant Pot.
Let cool in mold 2-3 minutes before removing from mold.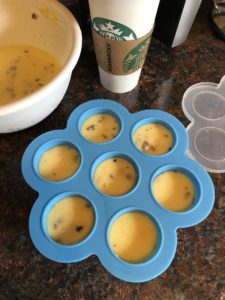 These will refrigerate for 3-4 days. They can be eaten cold or popped in the microwave wrapped in a paper towel for 30-60 seconds.