Sweet potatoes are a staple in our house. My daughter loves to eat them raw and since they're packed full of so many vitamins, I just can't say no. This chicken and sweet potato concoction is perfect with the accompanying maple glaze and is sure to please your palate and become a regular in your meal rotation.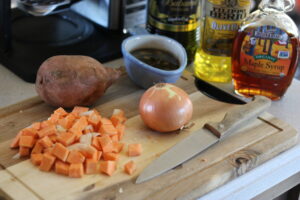 Ingredients
Chicken:
1 lb boneless skinless chicken breast, cut into cutlets
1/2 cup flour
Salt & pepper, to taste
2 Tbsp Olive Oil
Sweet Potatoes:
1 Tbsp Olive Oil
1 tsp paprika
2 cloves garlic, minced
2 medium sweet potatoes, peeled & diced into 1/2 inch cubes
1 small onion, diced
Salt & pepper, to taste
Maple Glaze:
1/4 cup maple syrup (I do not recommend maple flavored pancake syrup. It will not thicken properly and will not give the correct taste)
3 Tbsp balsamic vinegar
1 clove garlic, minced
1 Tbsp Olive Oil
Directions:
Slice chicken into cutlets and pat dry. Season both sides with salt and pepper, to taste. Dredge chicken breasts in flour.

In a

large oven-safe skillet

over medium-high heat, heat oil until shimmery. Place chicken in pan and brown on both sides, 3-4 minutes on each side until golden-brown. Transfer chicken to a plate and tent with aluminum foil.

Preheat oven to 400* Fahrenheit

In the same

skillet

you just used for the chicken, heat 1 tablespoon olive oil over medium-high heat until hot. Saute sweet potatoes, onion, and garlic in oil 5-8 minutes until veggies are golden and caramelized (sweet potatoes will not be cooked through). Stir in paprika and season with salt and pepper to taste.

Arrange chicken breasts around the sweet potatoes in

skillet

, making sure to include any juices that have formed on the plate. Bake at 400* Fahrenheit for 20-25 minutes, or until chicken registers 165F and sweet potatoes are nice and tender.

In a small skillet over medium-high heat, heat olive oil and saute garlic until just fragrant. You will need to constantly stir because garlic does burn quickly. Stir in balsamic vinegar and maple syrup. Bring sauce to a boil. Reduce heat to medium, letting simmer until reduced and thickened, approximately 10 minutes.

Once chicken and sweet potatoes are done, drizzle with maple glaze. Serve warm.