For the last few years I have tried every tip and trick available on the internet to create the perfect hard boiled egg. From baking soda, to vinegar, to immediate ice bath, if it's out there, I have failed at it. Each and every time I would peel the eggs, chunks of the white would come off with the shell. This led to some pretty ugly deviled eggs for us!
It wasn't until I purchased my Instant Pot that I found the absolutely best trick out there for creating perfect hard boiled eggs. Here I detail my hard boiled egg hack and I hope you find it just as useful as I do! I have done this with as few as 4 eggs and as many as 12 without having to change the times.
Step 1:
Place your eggs into the liner of your Instant Pot. Add 1 cup water. Replace lid and set vent to seal. (Double check this one – there have been plenty of times I thought it was sealed, only to have it wide open!)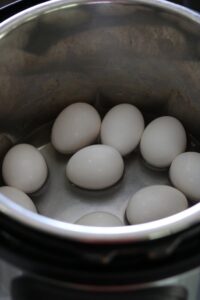 Step 2:
Set your Instant Pot to manual on high pressure for 5 minutes. Note: it will take 10-15 minutes for your device to come to pressure and begin cooking.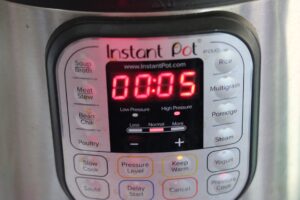 Step 3:
Let natural release for 5 minutes. Once this time has passed, do a quick release. Make sure your face is not over the vent as the steam may burn your skin. Also, do not ever put a kitchen towel over the vent.
Step 4:
Fill a large bowl with water and ice. Remove eggs from liner and place in ice water for an additional 5 minutes. You can peel these eggs immediately or set them in the refrigerator for later.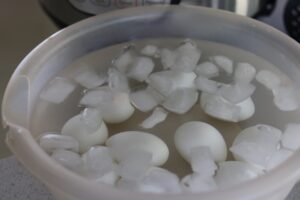 It really is as simple as that!