About Me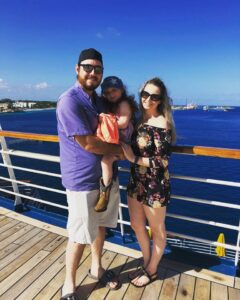 Hi! I'm Heather. I'm a homeschooling mama of a fiery redheaded nine year old with a precious little boy expected in July. After growing up in Western New York, I set off across the country to the Central Valley of California. Once I reconnected with my half-sister, I flew out to Tennessee where I was introduced to my ex-husband. Shortly after our daughter was born we decided to travel the country full-time in our fifth wheel camper and we loved every minute of it! Currently, I am back in my hometown in Western, NY.
I started my journey working in the financial sector, first in accounts receivable and then as a financial advisor. I furthered my education with a degree in Financial Forensics, but discovered working a 9-5 job just was not my passion. Today, I enjoy sharing heartfelt stories, posting humor on our Facebook page, drumming up new recipes for my family, and sharing the places we travel along the way.
In my spare time, I enjoy exploring new sights with my family, scouring the internet for money-saving deals, reading the latest rom-com best seller, and just enjoying my time with my daughter, Maddyn; our flock of 31 chickens; and my father.
We never know where we're going to land next, so make sure to follow our real life adventures over on Instagram. Make sure to tell us "hello" if you ever see us out and about! We would LOVE to meet you!
Since 2016, Coffee. Mom. Repeat. has been helping mamas with easy to make recipes, reviews of local and national travel destinations, family friendly product reviews, and simple crafts to make with your little ones.
For collaboration opportunities, please contact [email protected]
[fts_instagram instagram_id=8537685163 pics_count=6 type=user profile_wrap=yes profile_photo=yes profile_stats=yes profile_name=yes profile_description=no super_gallery=yes columns=3 force_columns=no space_between_photos=1px icon_size=65px hide_date_likes_comments=no]