I don't know about you, but I am a huge fan of little gadgets in the kitchen. It is absolutely amazing the items that are invented in an effort to make our lives a little easier. With the help of the Coffee. Mom. Repeat. community, we have compiled the top 10 items that are a must-have in the kitchen! They are listed in no particular order.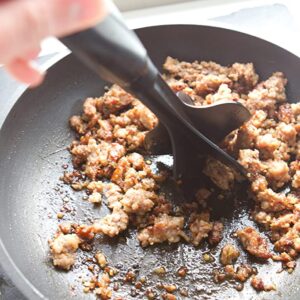 Meat Chopper:  This handy gadget breaks hamburger or eggs apart as you cook them.
Since it has four paddles, it makes it a lot more efficient than a plastic or wooden spatula.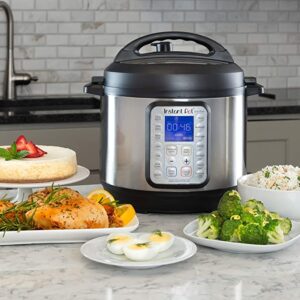 Instant Pot: This amazing device does it all! You can boil eggs, bake a cheesecake, cook the perfect roast, or even make yogurt! It really is a gadget that everyone should have in their kitchen. Did I mention that it cooks meat from FROZEN? That makes it perfect to still cook a home cooked meal even if you're running late getting home for the evening. Some models also have a wifi function. You can find some of our favorite Instant Pot recipes HERE along with Why We Love Our Instant Pot.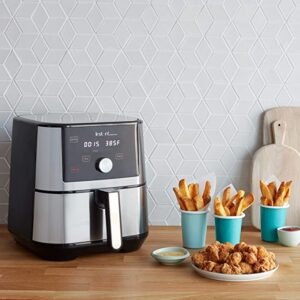 Air Fryer: Chicken Wings with half the fat compared to the traditional deep fried ones? Count me in! If you can bake it in an oven, you can cook it in an air fryer. This device saves on cooking time and doesn't heat your house up like a traditional oven. I will note that it is important to not crowd the basket so the air can circulate appropriately to cook food thoroughly.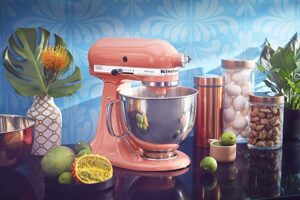 KitchenAid Stand Mixer: This stand mixer is great for nearly everything. They include 3 attachments — whisk, paddle, and bread hook. The plastic shield keeps the contents from splattering everywhere. We love to make Italian Bread with ours as well as whatever cookie combination we are craving at the moment! Plus, the bowl is dishwasher safe with makes for quick, easy clean-up!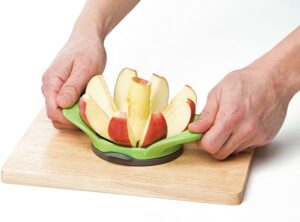 Apple Corer & Slicer: This nifty gadget makes snack time a breeze! It cores and slices apples all in one shot!
Just toss it in the top rack of your dishwasher when you're done!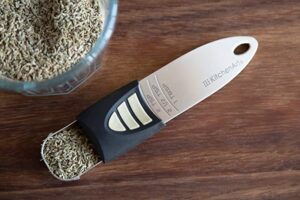 Adjustable Measuring Spoon: I do not know where this kitchen gadget has been all of my life, but now that I know of its existence, I need one! I am always losing my measuring spoons in my drawers (forget that ring they come on!) so this not only makes storage super easy, but clean-up consists of just one item!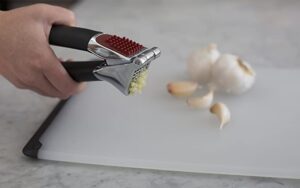 Garlic Press: I thought my family was the only one that loves garlic in nearly any dish, but this guy was suggested several times as a top kitchen gadget. Just peel your garlic, pop it in, and squeeze to get fresh garlic packed full of flavor!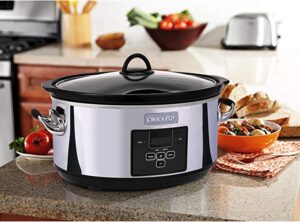 Crock Pot/ Slow Cooker: Slow cookers make life so much simpler by allowing you to set your ingredients inside and forget about what you're cooking until dinnertime. I love making roasts in mine as well as fresh applesauce. Many also include a wifi function so you can set a timer to start cooking, if needed.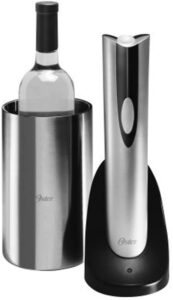 Rechargeable Electric Wine Opener: For years we used the handheld corkscrew wine bottle openers and personally, I have struggled quite a bit with them. Depending on the angle you put the corkscrew in, you are unable to get enough lip to have leverage to pull the cork out. It generally ended in a bad scenario with myself. Thankfully, we were gifted a rechargeable electric wine opener and it has been a game changer! I have charged it once in the last year!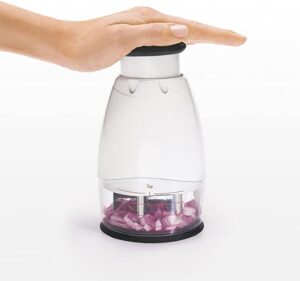 Food Chopper: I spend so much time in the kitchen dicing onions that I don't understand why I never picked one of these food choppers up. It easily dices and chops onions, nuts, garlic, celery, etc.! The more you press the top part, the finer the chop becomes.
---

Coffee. Mom. Repeat. may earn a small commission via affiliate links in this post. You can view our whole disclosure policy HERE.