Coffee. Mom. Repeat. may earn a small commission via affiliate links in this post. You can view our whole disclosure policy HERE.
---
One thing my husband and I enjoy doing is exploring the world, one cruise port at a time. While we aren't quite seasoned sailors just yet, we have come across some awesome life hacks for Carnival Cruise line that we want to share with you.
Love Chick-Fil-A's frozen lemonades? Head up to the lido buffet and combine their lemonade with vanilla frozen yogurt to enjoy a tasty treat in the middle of the ocean!
A pitcher of Margaritas from Red Frog Rum Bar will fit into a standard 32oz water bottle. This option is way cheaper than purchasing single drinks & you can easily take it on the go! Note: You cannot order pitchers w/ the Cheers package.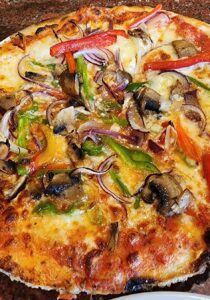 Pizza Pirate offers a handful of options (my favorite is the Quatro Formaggio), but take yours up a notch by grabbing a bowl of peppers and onions (or any other topping of your choice) from the salad bar & politely ask the chef to top your pizza with them. Most will oblige because they're making the pizzas as they're ordered anyway!
A cheap over the door shoe organizer will give you more storage space in the bathroom. Make sure you grab one with netting so your products will dry as you put them back! Just hang on the door & enjoy the extra space!
Electrical outlets are sparse in the staterooms, so make sure you bring an adapter so you can charge everything you need at once!
Bring your own taco bowl shells, head over to the Blue Iguana Cantina & have the chef fill it with all of your favorites!
Carnival doesn't have straws unless you order a blended drink and even those are paper or sugar. Bring along a reusable silicone straw or two and avoid the paper one biodegrading in your drink!
Are you cruising with your partner or opted for a king size bed? You'll want to bring a mattress strap so those two mattresses don't separate as you're sleeping! There's nothing worse than waking up in the crack of the bed.
Make sure to pack yourself some Liquid I.V. for those days when you take full advantage of the drink package!
If you enjoy dinner in the main dining room, order the lava cake for dessert. You won't regret it. Take it one step further by asking your server for a side of peanut butter. You can thank me later.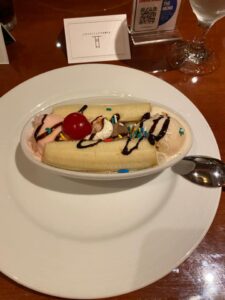 Speaking of dessert, feel free to request the banana split off the kid's menu. Delicious!
You're going to be in a tiny room & indulging on everything the Lido Buffet, Main Dining Room, and grab-n-go restaurants have to offer. Trust me. You're going to want to bring some Poopouri. Your roommate will appreciate it!
Another Blue Iguana must-do: Snag a plate of fries from Guys Burger's then walk your booty across the way to Blue Iguana. Load those bad boys up with all the fixings. Bon apetit!
Bring your own waffle bowls for the ice cream machine. This takes your new frozen yogurt obsession up a notch.
Heading to a show? Make sure you arrive 30-45 minutes early to get great seats. We arrived 5 minutes before showtime to the Love & Marriage Show, winding up in the nosebleeds of the balcony!  Also, take a sweatshirt because it's typically FREEZING in there!
The walls inside your cabin, as well as your door, are magnetic. Grab some magnetic hooks to hang swimsuits so they can dry a little easier. They're also perfect for hanging the personalized door sign you're now going to bring with you!
Sometimes the Lido deck gets pretty windy. Pack yourself some towel bands to prevent your towel from flying away.  They're also much less bulky than the clips.
Decorate your door! This is one of the most fun things about cruising! I love walking the corridors and seeing where everyone's from, what they're celebrating, etc. Plus, it'll be easier for you to locate your cabin after visiting your favorite  bartenders.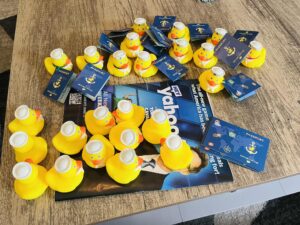 Hide your ducks. Then keep an eye out for others. Yes, this is a thing. In fact, there's a whole Facebook  Group dedicated to it.
The shower at the spa/gym is way bigger than the one in your room. Grab a quick workout then relax with more space!
Book your excursions & purchase your packages (such as WiFi, Bottomless Bubbles, & Cheers) before you sail. They're more expensive once you're on board.
Ladies: Take your feminine care products with you. Even if you don't think you'll need them. Mother Nature has a nasty way of sneaking up on us at the most inopportune times. The only option you will have for tampons on the ship are overpriced ones with a painful cardboard applicator!
If you or your partner uses chewing tobacco, make sure you take enough to last you the entire trip — maybe a little bit more. My husband never packs enough & swears he will be able to get it on the ship or on the island… & he never does!
Participate in a gift exchange! Simply search your Ship Name & Date on Facebook to find a group filled with people vacationing at the same time as you. Look for the posts that talk about gift exchanges. We just recently learned this was a thing after a ton of gifts were delivered to the wrong room. We tried returning those with the room number as the "from" but we wound up with so much stuff!
Select ships will deliver warm cookies & milk to your room at night. Check with your room steward to see if this is available!
Last, but not least, don't wear your sail & sign card around your neck on a lanyard. You will 100% look like a cruise newbie.
As always, have fun & create amazing memories!