Around Christmastime my husband made a version of this crack candy that the entire family loved. With Valentine's Day right around the corner, I tried to think of a way to adapt it to this holiday. It uses just a few ingredients and is super simple to make. Your family will love it!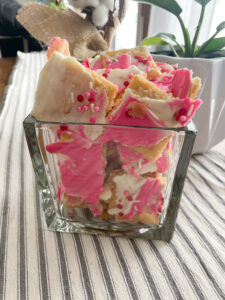 Ingredients:
Saltine Crackers — enough to cover a baking sheet.
1 cup butter, cut into chunks for easier melting
1 cup light brown sugar
2 cups white chocolate chips
1/4 cup pink chocolate melts
Valentine's Day Sprinkles
Directions:
Preheat oven to 325* Fahrenheit.
Line a baking sheet with aluminum foil & spread saltine crackers so they are all evenly touching each other. Set aside.
In a medium sauce pan, combine butter and light brown sugar until boiling. Stir constantly for 2 minutes.
Spread the butter/brown sugar mixture evenly across the saltines.
Place into the oven and bake for 7 minutes.
Remove from oven and sprinkle white chocolate chips over crackers. The heat from the toffee will melt them, but you may need to pop it back in the oven for a minute or two.
Using an icing spatula or a butter knife, gently spread chocolate chips evenly across the toffee crackers. Set aside.
Melt your pink chocolate melts according to package directions. Using a piping bag or a spoon, sprinkle the pink chocolate melts over the white chocolate chips. This will create a decorative pattern, or you can marble your pink into your white using a butter knife.
Top with Valentine's Day sprinkles.
Set entire pan into the fridge and allow to harden.
Once completely hardened, remove and break into haphazard pieces. Enjoy!

This recipe can easily be changed depending on the season or holiday. The melting chocolates come in a variety of colors & there are always different colored sprinkles. Let your imagination go wild!
---
Coffee. Mom. Repeat. may earn a small commission via affiliate links in this post. You can view our whole disclosure policy HERE.