Banana Pudding Cheesecake
Written by Guest Blogger Erin K. Courtney
If you're from the South or familiar with our food down here, you'll know that Banana Pudding is something we don't mess around with. We mean serious business, and it better be really good for us to wolf it down. 
It still amazes me how quickly this cheesecake sells out at Krafty Draft Brew Pub, how many people have said this particular one is their favorite, and how many people have ordered a WHOLE cheesecake for a special occasion or someone's birthday.
People go bananas over this cheesecake…literally.
One of the many things I love about this cheesecake is that it's not overly sweet or rich. The natural flavors from the mashed bananas really shine in each bite, leaving your tastebuds happy and satisfied without being too overwhelmed.
You also determine the texture of this cheesecake by how much you mash the bananas. My family and I like a smoother consistency with less chunks, so I go to town when mashing them down into a really smooth texture before adding to the batter. You also have the option of pureeing the bananas for NO chunks whatsoever. It's one of my personal favorite fruit cheesecakes and is perfect with the Spring right around the corner.

Banana Pudding Cheesecake
Ingredients:
For the Crust:
1 1/2 cups Nilla Wafers crumbs
3 tablespoons unsalted butter, melted
For the Filling:
3 (8 oz.) packages cream cheese, softened
1 cup mashed bananas (RIPE)
¼ cup cornstarch
1 1/3 cups granulated sugar
3 eggs
2 teaspoons vanilla extract
1 teaspoon banana extract
1/2 cup heavy cream
For the Topping:
4 oz. frozen whipped topping, thawed
Nilla wafers
Directions:
1. Preheat oven to 350 degrees. Double-wrap the outside of a 9 inch springform pan with heavy duty aluminum foil, place inside a 12 inch cake pan. Place Nilla wafers crumbs in a small mixing bowl, toss together. Add the melted butter and mix with your hands until thoroughly combined. Rub butter all along the bottom of the springform pan, then press Nilla wafers mixture evenly along the bottom. Place pans in the oven to bake for 7 minutes, remove pans from oven and set aside.
2. In a standing mixer (or mixing bowl and using electric mixer), add 8 oz. cream cheese, cornstarch, and 2/3 cup sugar. Beat at medium speed with the paddle attachment until mixture is smooth. Add another 8 oz. cream cheese, along with 1/3 cup sugar and continue to beat until smooth. Add remaining cream cheese and granulated sugar, one at a time, until smooth. Slow mixer to stirring speed, add extracts and one egg at a time, scraping down the sides. Turn on to stirring speed and slowly add mashed bananas and heavy cream, beat just until mixed in (do not overmix). Spoon batter into springform pan on top of graham cracker crust and spread into an even layer.
3. Pour warm water into the larger cake pan, creating a water bath (this prevents cracks). The water should come up at least 1 inch around the springform pan. Carefully place pans in oven and bake for about 1 hour 15 minutes, until lightly browned on top. Remove pans from oven, pull the springform pan out of the larger pan and place on a cooling rack for about 4 hours to cool completely. Remove aluminum foil from around pan.
4. Cover springform pan with plastic wrap and place in freezer to set for at least 4 hours, but preferably overnight. Remove plastic wrap from springform pan, release and remove sides of springform. Place a piece of parchment or wax paper on top of cheesecake, turn upside down onto a flat surface. Carefully remove bottom of pan, turn back over onto a serving plate.
5. Cut into slices with a sharp, straight edged  knife, wiping knife between each cut. Store cheesecake in refrigerator until ready to serve for up to 7 days, or in the freezer for 1 month. Garnish with whipped topping and Nilla wafers, if desired.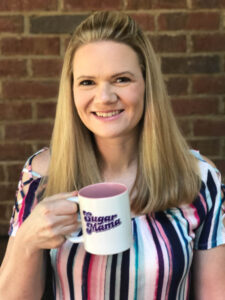 Erin K. Courtney is a pastry chef, cookbook author, mom, and wife with a wickedly warped sense of humor and a true passion for food. She is a terrible influence who specializes in desserts, and gets fussed at on a regular basis from all of the food she shares on social media. You can find her on Facebook, Instagram, Twitter, and at cheferinskitchen.com