Coffee. Mom. Repeat. may earn a small commission via affiliate links in this post. You can view our whole disclosure policy HERE.
This is the first New Years in our New home and I figured I would spice things up a little. Since Gummy Bears happen to be one of my favorite snacks in the whole world (Albanese brand, of course) when I heard about this liquor infused version, I just had to give it a go!
We used Malibu Coconut Rum and Tito's Vodka for ours, but you can use any liquor you like!

Making them is simple:
Pour gummy bears (or even gummy worms!) into a dish.

Cover with your favorite liquor. Stir & let sit a few hours or overnight. The fatter the little guys get, the more liquor they contain! 
You can eat them by the spoonful or pop them into little condiment containers (as if you were to makeJell-o shots) and serve them.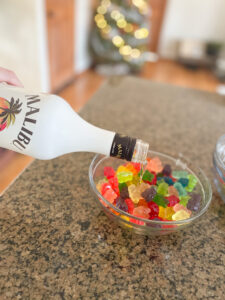 I will warn you: they are delicious, so always make sure to keep away from children and consume responsibly.