Springtime generally signals the beginning of cookout season and I'm always looking for dishes to bring along that are outside of your traditional potato salad, baked beans, and macaroni salad. These Caprese bites are very simple to prepare and offer a refreshing treat as the Grill Master does his/her thing! I know my kiddo had a blast helping me assemble them and I was even able to get her to try a fresh tomato (there aren't many fruits and vegetables she doesn't like, but tomatoes are definitely one of those!).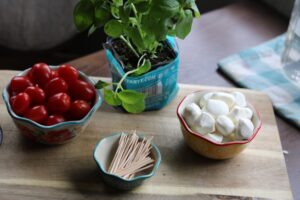 Ingredients:
1 package cherry or grape tomatoes
Fresh Basil leaves (enough for each tomato)
Fresh Mozzarella Balls (you can generally find these in the artisan cheese section of your local grocery store)
1 cup balsamic vinegar
Toothpicks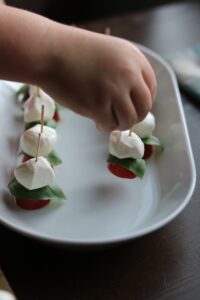 Directions:
Cut tomatoes into halves. Drain mozzarella and remove stems from basil leaves.
Assemble onto a toothpick as follows: mozzarella, basil, then tomato
In a small saucepan, reduce balsamic vinegar over medium-high heat. Once it starts to boil a bit, it should take 10-15 minutes for it to form into a maple syrup consistency.
Remove balsamic vinegar from heat, set aside and allow to cool completely.
When you are ready to serve your Caprese bites, drizzle balsamic vinegar and enjoy!