Let me preface this posting by first saying that we did do research before heading out. We followed all precautions while traveling, and we all had to be tested for COVID-19 prior to leaving the country. Everyone traveling to the Maldives, as well as most places in the Middle East, were required to provide a negative COVID-19 PCR test prior to boarding the plane — no exceptions. Masks were required on every plane, in every airport, and everywhere except your room at the resort.
My husband and I each have a bucket list. A personalized leather bound notebook that contains all of the items we wish to see or complete before we kick the proverbial bucket. One that has stuck out to us the most is visiting the Maldives. We never thought we would get the chance to go, especially during a pandemic.
Our trip to paradise was booked back in February, shortly before the lockdowns were put into place and the current situation was designated a pandemic. I did as much research as possible to find the best resort I could, while also staying on budget. We settled on RIU Atoll 4 — a family friendly resort on the Maldivian island of Maafushi. The photos looked breathtaking with the blue water in shades one could only imagine. The biggest seller for us was the RIU KidsPalace, a place where our daughter could go to get a vacation from her parents as well. When COVID hit, we put our plans on hold until we could research the situation further. At the beginning of September, we decided to purchase our airline tickets and head out.
I was nervous, but excited to see something most people can only dream about. It took us three days to arrive at our final destination. Three commercial airliners, one seaplane, and two boats.
Our first flight from Columbus, Ohio to Dallas, Texas was a breeze. American Airlines required us to wear masks for the duration of the flight and they stopped their snack and beverage service. We then had a four hour layover at DFW airport, where again, we had to wear masks the entire time. A lot of restaurants were closed due to the pandemic and the ones that were open hardly had any patrons.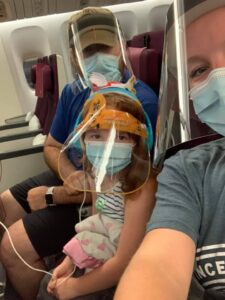 From Dallas we boarded our 14.5 hour flight to Qatar, which is located on the continent of Asia. For this flight we traveled via Qatar Airways and when you hear that their customer service is phenomenal, they 100% are not lying. We were served snacks, two full meals, and one snack which comprised of a sort of pizza pita pocket which was delicious. The beverages were plenty and spirits are included. Prior to boarding, we were given a face shield to wear during the flight in addition to our face mask. When we boarded the plane, we were provided with a refreshing towel to wash our hands; a kit containing a spare mask, rubber gloves, and hand sanitizer; as well as another kit which included ear plugs, socks, a sleep mask, toothbrush, toothpaste, and lip balm. In our seats we had a pillow and a decent size blanket. My daughter was gifted a book bag or plush toy on each flight, which she absolutely loved! The flight attendants were absolutely wonderful and one of a kind.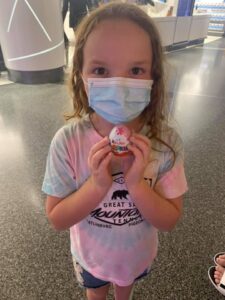 In Qatar, we had a nine hour layover at Hamad International Airport, also known as Doha. This airport was amazing! They had plenty of shops, including Burberry and Gucci, and quite a few confections that we do not have here in the states. My daughter was able to open her first real KinderEgg! In case you're wondering why I am saying "real" when we have KinderEggs here in America, it's because the original KinderEggs are banned due to the toy being inside the chocolate instead of in it's own half of the egg. She was in heaven! HIA has a few quiet areas for you to rest, or you can opt to purchase time in the Stay and Fly or book an hourly package from the Oryx Airport Hotel (you will need to contact this hotel beforehand for rates and to reserve your room). I will say the food is very pricey overseas. For a fast food meal for my family (my daughter and I shared a meal) it as $68USD and on the way back, we spent $38USD on three simple meals from Burger King at Malè airport.
After nine hours, we were on our way to Malè airport in the Maldives. Thankfully, this flight was only 5 hours, and again we were given the same courtesies provided by Qatar Airways as we received on our first flight, but only one meal as the flight was a lot shorter.
Malè airport is a small airport. When you land, you will need to take a bus over to the terminal before you head through immigration. However, immigration was a breeze since we completed our health declarations and provided proof of our negative COVID tests upon arrival. They stamped our passports & sent us through to security. We walked through the metal detectors and collected our luggage. It was the quickest international process I have ever encountered — when we went to Jamaica we spent over an hour getting through immigration. Outside the security gates are signs for the various resorts. We looked for RIU. The gentleman that escorted us was very friendly. He checked our bags in, weighed us as we were about to board a sea plane, and then directed us to the van that would ultimately take us to the Manta Air airport.
The flight from the main island to ours was breathtaking. You see all of the colors of the ocean from your window — at least four different shades of blue. There are so many islands to view and explaining it here to you just does not do it justice. The seaplane ride took 45 minutes where we landed by a floating dock to board a boat that took us to a second boat. Two hours after arriving in the Maldives, we were finally at RIU resorts.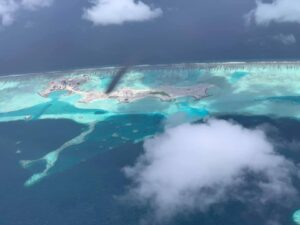 Little did we know that the Atoll 4 portion of the resort was closed due to COVID so we were moved to the newer side of the island — RIU Palace Maldivas.
The resort is gorgeous!
At the resort, our temperature was taken prior to every meal and hand sanitizer stations were readily available. When at the pool, an employee would immediately clean the chairs as soon as a guest left.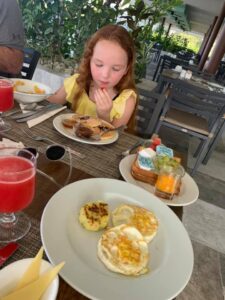 The best part? The resort was only operating at 5% capacity so we basically had free rein. We didn't have to wait in line for anything! Plus, my daughter was the first child to arrive since they re-opened AND she was the only kid at the resort so she definitely received special treatment! She was in heaven! The chef came out several times to make sure she was being served what she wanted (since they had a limited menu due to low capacity) even after she ordered the entire breakfast menu! I have to say, the customer service was outstanding. Each dinner was themed: Japanese, Italian, Indian, Asian-Fusion, etc. We all tried Indian food for the first time, which was a bit spicier than I normally enjoy.
My only complaint is the inconsistency in the bar drinks — no two ever tasted the same. Although, I will recommend their Passion Fruit & Vodka, strained. THAT was amazing!
Although the Atoll 4 portion of the island was closed, we were told by another guest to make the trek over to the beach on that side. It was empty and had the best snorkeling. My husband was like a kid in a candy store! He loved viewing the fish, even coming face-to-face with a few Reef Sharks. He also shared what he saw with our daughter, teaching her how to breathe through the snorkel. Neither of them wanted to leave!
Jet lag was a very real thing. Every afternoon we wound up taking a 2-3 hour nap, which while good for our bodies, frustrated me a bit because the sun starts to set around 6pm and I definitely wanted to take advantage of every ounce of daylight! We were able to watch the sun rise over the Indian Ocean a few times, and that is something you do not want to miss. It was awesome to see the little hermit crabs travel across the sand to make their way to their daytime resting place. They were everywhere and in every size imaginable. But, the sunrises & sunsets over the Indian Ocean were simply unforgettable.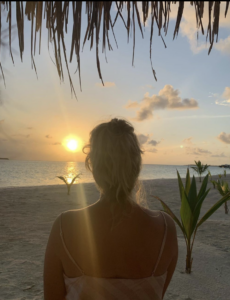 If the Maldives isn't on your own bucket list, I highly suggest adding it. And if you're comfortable traveling right now with all of the guidelines that are in place, it's very affordable at the moment. We had an absolute blast and made memories to last a lifetime. Don't be afraid to get out there and see the world. It's huge & vastly different from the United States!