I am a huge supporter of handmade presents. I love to give & receive them. For our second dating anniversary, I knew I needed to make something special. My now-husband is an avid hunter, so when I came across this idea for a silhouette photo collage, I knew I had to make it with the outline of a deer bust. It took only a few hours to make & he couldn't stop telling me how much he loved it. You could easily swap my deer idea for any other animal or object, such as a bass fish, fishing boat, police badge, etc. The possibilities with this one are endless!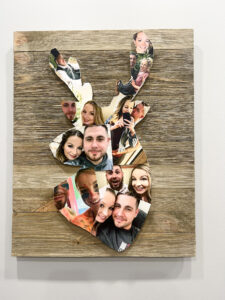 What You Need:
Wood Sign Pallet — I found mine in the craft section at Walmart
Foam board — I could only find thin board, so I had to cut two silhouettes
Hot Glue
Photo Glue Stick
Enough photos of you & your loved one to fill the head — wallets would work best.
Razor knife — to cut the silhouette
Permanent Marker
How To:
Freehand your choice of animal or object into the foam board with the marker. If you are able to print one the size you need, feel free to print & trace.
Using your razor knife, carefully cut out your silhouette from the foam. If you have a thin foam board, you might want to cut two (this is what I had to do to get the 3D effect I was going for)
Carefully hot glue your silhouette to the wood sign pallet. Let dry.
Taking your time, lay out your photos as you wish to have them on the silhouette. Cut to fit.
Use the photo glue stick to adhere the photos to the silhouette. Let dry.
If you wish, you can always add an adorable vinyl quote to the wood sign pallet.
Wrap up & enjoy the smile when they open your heartfelt gift!