Last week I decided to jump on the whipped coffee train and tried my hand at Dalgona coffee. Kiddo thought it looked really cool, but didn't care for the taste, so after thinking (and some trial and error), we came up with whipped chocolate milk. She was so excited to give this one ago! She's always wanting to be like Mama and I'm going to cherish these little moments before they vanish!
I hope you enjoy it as well!
What You Need:
2 Tbsp Chocolate Milk Powder (we used Ovaltine)
1/2 cup heavy whipping cream
8-10 oz cold milk (with a few ice cubes)
Whisk or Hand Blender w/ the whisk attachment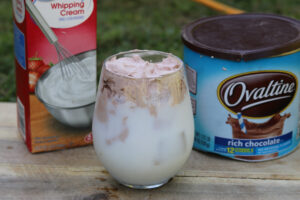 Here's How:
Combine chocolate milk powder & heavy cream into a bowl and whisk until it's nice and fluffy.
Pour your milk into a cup with some ice.
Top with the whipped chocolate milk. Stir it in with a spoon and enjoy!
---
Coffee. Mom. Repeat. may earn a small commission via affiliate links in this post. You can view our whole disclosure policy HERE.