This autumn we have the pleasure of living in Northern Michigan where apple trees are abundant. A few weeks ago we took a trip to Hoxie's Farm Market for a corn maze, apple picking, and even an apple cannon! We had an absolute blast and brought home approximately 20 lbs of fresh-picked Michigan apples. The experience was absolutely wonderful and if we're ever back in the area around this time of year, we will definitely be stopping again!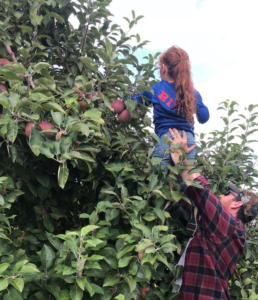 20 pounds of apples! Some we ate, others we turned into a flat apple pie (sorry! We ate it too quickly for me to snap photos to post a recipe on our blog!) and we still had around 10 pounds left. Since they were a few weeks old, they were getting close to their expiration date so I had to think fast. What else could I make? My wonderful 5-year-old suggested we make homemade applesauce. So, here is our simple recipe for Slow Cooker Applesauce. We hope you enjoy it as much as we did!

Ingredients
12

 

apples, washed

1

 

lemon,

 

juiced (or 2 tbsp lemon juice)

1 1/2

 

tsp

 

cinnamon

3

 

tsp

 

vanilla

3/4

 

cup

 

water

1 tbsp pure cane sugar
Instructions
Peel, core, and slice apples and load them all into your

slow cooker

.

Add lemon juice, cinnamon, vanilla, sugar and water.

Stir to combine.

Cook on low for 4-6 hours.

Throw into your

Ninja blender

and puree until desired consistency. (You could also easily use a

potato masher

)

Spoon into jam jars and allow to seal. You can also pour it into a container and refrigerate.