In our house, macaroni and cheese is a staple, especially my homemade mac-n-cheese. We have had truffle mac-n-cheese a few times at restaurants and finally decided to recreate it at home. It was an instant hit!
Ingredients:
1/2 lb small shell pasta
1/4 cup + 2 tbsp butter, separated
1/4 flour
2 cups milk
1 tsp salt
1/2 tsp pepper
1 cup gruyere cheese, shredded
1 cup sharp cheddar cheese, shredded
1 cup gouda cheese, shredded
1/3 cup Panko bread crumbs
1 tsp White Truffle infused Olive Oil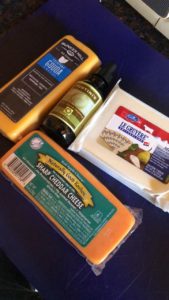 Directions:
Cook pasta as directed, until al dente. Drain. Place into a large mixing bowl.
Layer shredded cheese on top of hot pasta inside large mixing bowl.
In a large skillet, melt 1/4 cup butter. Add flour and whisk until lightly browned with a nutty aroma.
Stir in salt and pepper. Add milk, whisking until a thicker consistency. Add truffle oil. Pour over pasta/cheese mixture.
Stir contents of entire bowl until combined.
Preheat oven to 325* Fahrenheit.
In a small skillet, melt 2 tbsp butter. Once melted, add Panko bread crumbs and stir until slightly browned.
Transfer pasta mixture to a medium baking dish. Spread evenly in dish. Top with toasted Panko.
Bake for 10-15 mins. Remove from oven, let cool 3-5 minutes.
Enjoy!