This dish is commonly referred to as "Stick of Butter Rice," but to make it a little bit healthier, I came up with this version which tastes just as delicious and is simple to make. The best part is it does not call for any processed soups. It's packed full of flavor and is the perfect side dish to any steak entree.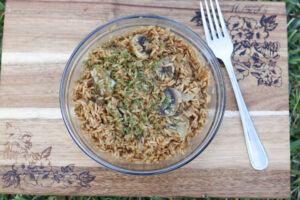 Ingredients:
1 cup fresh mushrooms, sliced
1/2 cup white onion, diced
2 cloves garlic, minced
1 1/2 cups basmati rice
1/2 tsp ground thyme
1/4 tsp salt
2 1/2 cups beef broth (I prefer to use this)
4 Tbsp butter, divided
Directions:
In a medium sized pot, saute mushrooms & onion in 2 Tbsp butter until soft. Add garlic and continue to saute for one minute (this releases the flavor of the garlic without burning it). Remove from pot and set aside.
Place 2 Tbsp butter in same pot you used for the vegetables. Once melted, add rice, thyme and salt and cook until browned, stirring frequently to prevent scorching.
Add 1/2 cup of the beef broth to deglaze the pan.
Pour remaining broth into pan and simmer on low, covered, for 8-10 minutes, or until rice has thoroughly cooked.
Stir in vegetables and top with parsley, if desired.

---

Coffee. Mom. Repeat. may earn a small commission via affiliate links in this post. You can view our whole disclosure policy HERE.