This is my absolute favorite recipe. My go-to when we're asked to a cookout and everybody seems to love it. It's really easy to make and I highly suggest making it the night before and refrigerating overnight, as the sauce will be runny, but will soak into the pasta overnight to mesh the flavors even more!
12 Instant Pot Hacks We Swear By
Ingredients:
1 1/2 cups small shell macaroni or ditalini pasta
2 1/2 cups water
3 large eggs
1 tsp salt
1/2 cup celery, diced
1/4 cup red onion, diced
1 tsp mustard powder (or 2 Tbsp prepared mustard)
3/4 cup mayonnaise (As much as we love Duke's mayonnaise, I do not recommend it for this recipe. The amazing flavor of Duke's does not mesh well with the other ingredients in this macaroni salad)
1/4 cup white vinegar
1/3 cup sugar
Additional salt and pepper, to taste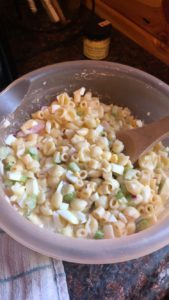 Directions:
Place pasta, eggs, salt, and water into your instant pot. Secure lid and switch vent to "seal." Set on high pressure for 5 minutes. It will take 5-10 minutes for your IP to come to pressure. When cooking is complete, manual release. Drain macaroni and eggs. (We recommend THESE to protect your hands while doing this.)
When eggs are cooled, peel and dice.
In a medium sized bowl, mix together mayonnaise, mustard powder, white vinegar, and sugar until smooth.
Add celery, onions, pasta, and eggs. Mix to coat.
Cover and let refrigerate a few hours or overnight. Stir well before serving.