One of our favorite spring-time adventures as a family is to go strawberry picking. It's so wonderful to get out into nature and just enjoy the sunshine and a healthy treat with the ones you love.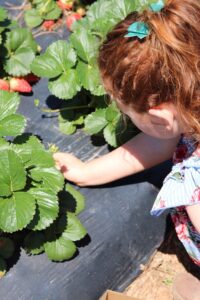 I stumbled upon a recipe similar to this a few years ago and my family instantly fell in love. Every morning they ask for their toast with mama's homemade strawberry jam, and I have to admit, I love that they love it! (My kiddo insists on a bit of butter on hers, also)
Unfortunately, strawberries aren't ripe for fresh-picking all year round, so when we ran out earlier than normal this year I knew I had to find a quick sale on strawberries at the local grocer and whip up some more!
It's simple to make, and you can substitute the strawberries for raspberries or blueberries. The green apple replaces the pectin, so there's no need to run out and buy any special ingredients for this jam! You will need to grab a kitchen scale
, however.  You will also need 4-oz jelly jars with self-sealing lids and metal-ring bands.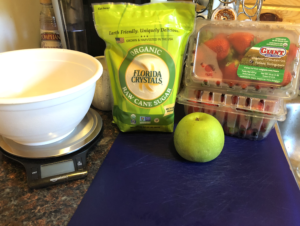 Ingredients:
2 lbs carefully sorted strawberries
1 1/2 lbs sugar
1 green or unripe apple, grated (skin and flesh, but not the core)
1/4 cup fresh lemon juice
Directions:
Remove the tops from the berries and dice them, weighing them as you go to ensure you have exactly 2 lbs.
Mix the berries, sugar, grated apple, and lemon juice into a large non-reactive saucepan or stockpot. Tip: It should not be more than half full or the jam will splatter. Stir with a wooden spoon until well mixed and the berries are mashed and juicy.
Bring to a boil over medium-high heat. Use a wooden spoon to skim off the foam that rises to the top (this will keep the finished jam clear).
Boil for approx. 15 minutes, stirring frequently until you feel the fruit start to stick to the bottom of the pot, and then stir constantly.
When the jam is very thick, drop a small amount onto a chilled plate. If the jam is thick and the juices do not run, it's ready. If not, cook 5 minutes longer and check again. Repeat if necessary until jam is thick. (Most berry jams will jell in about 15 minutes)
Ladle the hot jam into the clean jars. Seal with the lids and ring bands. Turn the jars upside down and let cool completely. Once cooled, turn the jars right side up and press the center of each lid. If it remains depressed, store the jars in a cool place for up to 1 year. If not, refrigerate for up to 3 weeks.