A few years ago the "zoodles" craze hit the world. I wasn't ever able to get into it for some reason, but when I found this ziti recipe that replaces the noodles with sliced zucchini, I immediately jumped on board. It quickly became a staple in our household!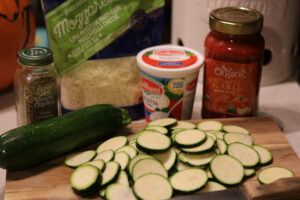 Ingredients:
3 medium-sized zucchini, sliced thin
1 small container ricotta cheese
2 cups Mozzarella cheese, shredded
1 jar of your favorite spaghetti sauce
1/4 cup onion, diced
1 lb lean ground beef or turkey
Directions:
Preheat oven to 350* Fahrenheit
In a large skillet, brown ground beef/turkey with the diced onions until cooked thoroughly
Add spaghetti sauce to the ground beef mixture. Stir well.
Toss zucchini into meat sauce mixture, coating well
In a greased oven dish, spread a layer of zucchini & meat to the bottom.
Dollop spoonfuls of ricotta onto layer. You can space these out or attempt to spread them with the back of a spoon.
Apply a thin layer of mozzarella.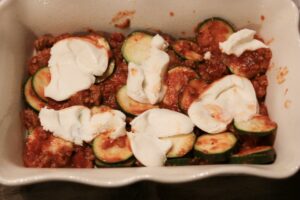 Repeat steps 5-7 until dish is full. Top with remaining mozzarella cheese.
Bake for 30-35 mins. Remove from oven and allow to cool for 5-10 minutes. *this will allow the cheese to coagulate so it isn't soupy*
Serve with our Easy Italian Bread In Your Stand Mixer, or alone.
---
Coffee. Mom. Repeat. may earn a small commission via affiliate links in this post. You can view our whole disclosure policy HERE.