I love a good carrot cake and have been craving one for a few days so I decided to sit down and whip up this scratch-made dessert. Unfortunately, when I went to search for my cake pans, the only one I could find was HUGE! In this RV I definitely do not have room for a gigantic cake so I tweaked my recipe a bit to create these amazing cupcakes. Of course, you can always do a cake, you will just have to let your batter bake a bit longer in the oven.
The homemade cream cheese frosting really is the "icing on the cake." I found I was able to do 20 cupcakes using a 1M Wilton Tip in a swirl, so you may want to double the recipe if you're able to get more cupcakes than I did from the batter. I filled each tin 3/4 of the way full.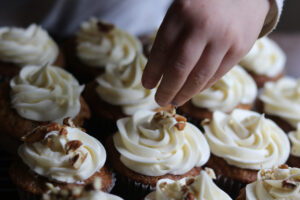 Ingredients:
Batter:
2 cups all-purpose flour

1 tsp baking soda

2 tsp baking powder

1 1/2 tsp ground cinnamon

1/2 tsp ground ginger

1/4 tsp ground nutmeg

1/2 tsp salt

3/4 cup vegetable or canola oil

4 eggs, room temperature

1 1/2 cup light brown sugar

1/2 cup granulated sugar

1/2 cup cinnamon applesauce

3 cups grated carrots

1 tsp pure vanilla extract

1 cup raisins, optional

1/2 cup crushed pecans, optional
Cream Cheese Frosting:
1 (8 ounce) brick cream cheese, softened

1/2 cup butter, softened

2 cups confectioner's sugar

1 tsp pure vanilla extract
Directions:
Cake:
Preheat your oven to 350* Fahrenheit. Line your cupcake tins or cut out parchment paper to fit the bottom of your cake pans (you will also want to spray the sides of your cake pans with non-stick spray). Set aside.

In a medium-sized mixing bowl combine flour, baking soda, baking powder, salt, cinnamon, ginger, and nutmeg. Stir just until combined but do not over stir.

Grate your carrots. I just used a simple

4-sided box grater

. Set aside.

In a large bowl, combine both sugars, applesauce, oil, eggs, and vanilla extract. Carefully stir in the carrots, raisins, and pecans.

Slowly combine your dry ingredient bowl into your wet ingredient bowl. Stir well, scraping the bottom and sides of your bowl to ensure no flour is left behind.

Carefully fill your cupcake tin 3/4 of the way full each. If you are using a cake pan, fill your pans 2/3 of the way full.

Place into oven and bake the cupcakes for 13-15 minutes or the cakes for 20-25 minutes, or until a toothpick can be inserted and come out clean.

Remove from pans and place on a

cooling rack

.
Cream Cheese Frosting:
Using a stand or hand mixer, cream the cheese until it is fluffy. Add the butter and continue to mix until it is combined.

Stir in the pure vanilla extract.

At intervals of 1/2 cup each time, slowly mix in the confectioners sugar. I have found that 2 cups provides me with the desire piping or icing consistency.

When cakes are cooled, place icing on as you prefer. Top with additional crushed pecans, if desired.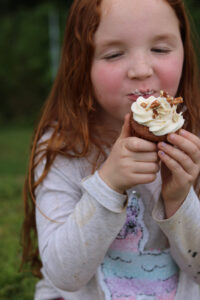 ---
Coffee. Mom. Repeat. may earn a small commission via affiliate links in this post. You can view our whole disclosure policy HERE.