Between juggling summer time activities, running our savings group, and trying to function as a human, I'm heavily relying on quick, simple weeknight meals to feed of my family of 4 (or sometimes 5). Luigi is now old enough to eat at the table with us, so these meals also need to be easy for him to chew since he's only up to 6 teeth now. By the way, can you believe he's a whole year old now?! 
When I came across this dump & bake chicken Alfredo, I just knew it was going to be perfect to add to our recipe rotation. It only uses a few ingredients that you probably already have in your pantry. Adding a vegetable to it is easy, just stir in peas, broccoli, or asparagus before you back OR pair it with a nice side salad. I think we're going to whip up some of our Amish White Bread, since it's raining today and we're not going anywhere.
Let us know what you think or what you decide to add to it!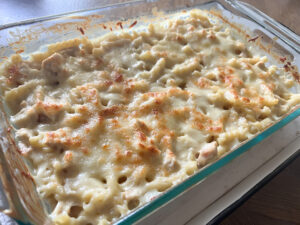 Ingredients:
(1) 16 oz package uncooked pasta
22 oz jar Alfredo Sauce (or about 2 1/2 cups)
3 cups chicken stock or broth
2 cups diced cooked chicken
2 tsp minced garlic
2 cups mozzarella, shredded
Optional: your choice of vegetable
Directions:
Preheat oven to 425*F
In a large 13×9 baking dish, stir together uncooked pasta, Alfredo Sauce, chicken broth, chicken, and garlic.
Cover tightly with aluminum foil and bake for 30 minutes.
Uncover & stir pasta. This is also a good time to check to make sure your pasta is al dente — you may need to bake it for 10-15 mins longer.
Once pasta is al dente, sprinkle mozzarella over the top. Bake uncovered for 8-10 mins, or until cheese is melted.
Let cool for a few minutes, serve, and enjoy!