A few years ago my family got a kick out of my dying the eggs pastel colors for Easter. This year, I decided to revive that project and do red, white, and blue deviled eggs! They are super easy to make, taking only a little more time than traditional deviled eggs. They're sure to be a hit at your next party!
What you'll need:
1 dozen eggs, hard boiled and peeled (we highly recommend this method — it takes the guesswork out of it!)
Red and Blue food coloring
Real mayonnaise (living in the south, Duke's is the only way to go)
Regular or dijon mustard, depending on preference
Bacon bits or paprika, your preference
Salt & pepper, to taste
Here's How:
Fill a large bowl with water and a  15-30 drops of blue food coloring (the more you use, the darker your eggs will be). Place peeled eggs into water for approximately 30 minutes. Make sure eggs are completely submerged.


Remove eggs from blue water and set on a paper towel to dry. Warning: your fingers will also get dyed! 
Cut eggs in half lengthwise and scoop yolks into a separate bowl. Set whites on a lightly salted plate so they're ready to be filled.
To the yolks, add 1/2 cup mayonnaise plus 2 tbsp regular or dijon mustard as well as 4-5 drops of red food coloring (may need to add more if you prefer a darker appearance). Mix well, removing chunks. Add salt & pepper to taste.
If you want to be fancy, transfer yolk mixture to a piping bag with your selected tip (Wilton tip 1M will give you the cupcake frosting appearance). Twist closed and carefully pipe the yolk mixture into the whites. OR carefully spoon yolk mixture into each egg white.
Top your deviled eggs with paprika or bacon bits, whichever you prefer.
Keep refrigerated until consumption. Enjoy!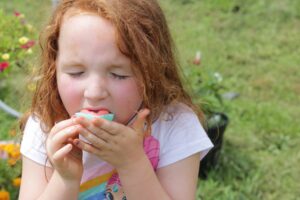 ---
Coffee. Mom. Repeat. may earn a small commission via affiliate links in this post. You can view our whole disclosure policy HERE.