We all know the traditional krispy treats made with Rice Krispies cereal, but here's an interesting (and delicious) take on the ever popular treat! They're just as easy to make as the original, with a lot more flavor and a little more fun. Add these to your menu this July 4th for a quick, easy treat your guests will love.
I took ours one step further and drizzled candy melts on top. This part is always optional.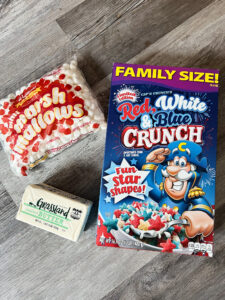 Ingredients:
(1) 10 oz bag mini marshmallows
4 Tbsp butter
6 cups Cap'n Crunch Red, White, & Blue Crunch Cereal (note: this is seasonal)
Directions:
In a medium saucepan, melt butter. Add marshmallows, stirring frequently with a rubber spatula until 75% melted. Remove from heat.
Pour cereal in a large bowl. Using the same rubber spatula as above, fold in marshmallow/butter mixture until incorporated.
Spread out contents of bowl into a well-buttered 13″x9″ baking pan. Allow to cool completely before serving.
Cut into squares, serve, and enjoy!