This is one recipe that takes me back to my childhood. Italian Dunkers were almost a weekly staple at my school and the only day I took extra money so I could purchase a double lunch. They are really simple to make and I enjoy sharing these little snippets of my life with my husband and child.
(Don't forget to Pin it for later!)
Italian Dunkers
Ingredients:
Dough

1 pkt active dry yeast, 0.25 oz
1 cup lukewarm water
1 tsp sugar
2 cups all-purpose flour

1/4 cup butter
2 tsp garlic powder (or to taste)
1 cup mozzarella cheese
Directions:
Make dough. Mix together yeast, sugar, and water. Stir and let bubble for a few minutes. Stir in flour and knead until it forms a ball. (I prefer to throw everything into the food processor bowl of my Ninja Blender and hit "dough" until combined). Cover and let rise until doubled, approximately 45 minutes.
Preheat oven to 350* Fahrenheit.
Once dough has doubled, grease a baking sheet and spread dough out as if you were making a pizza.
Melt butter and add garlic powder. Brush onto dough with a pastry brush.
Sprinkle cheese on top.
Place into oven and bake until crust is browned and cheese is melted, approximately 10-12 minutes. Cut into breadstick-like strips and serve with your favorite warmed pizza sauce.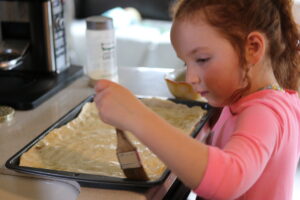 Dipping Sauce (also known as pizza sauce!)
Ingredients:
(1) 6-oz can tomato paste
(1) 15-oz can tomato sauce
1 1/2 Tbs oregano
2 Tbs Italian Seasoning
3/4 tsp garlic powder
1/2 tsp onion powder
1/2 tsp salt
1 tsp sugar
Directions:
Mix tomato paste and tomato sauce together in a medium-sized bowl until well combined.
Add the remaining ingredients and mix well.
Simmer on stove for 5-8 minutes to serve with Italian Dunkers or use as sauce on your favorite pizza recipe!