I'll admit it: the first 13 years of my marriage, I didn't really know how to make a roast in the slow cooker. They always turned out flavorless and dry, never the same each time. Nevertheless, I persisted and finally perfected this roast beef recipe that my family just absolutely loves! You can use any cut of beef, however, I have found that a chuck roast works best for maximum flavor and moistness. (Yes, I used the word *moist*, haha) I usually put it in around 11am and it's falling apart by 5pm.
I have used canned carrots and potatoes in this, and it has turned out just the same, so if that's all you have on hand, there's no shame in your game! I think it would also pair really well with parsnips.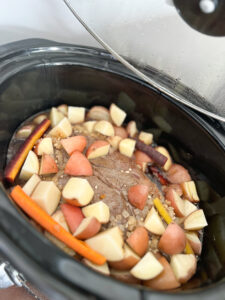 Ingredients:
2 lb Chuck Roast
4 carrots, sliced into coins or sticks
4-5 red potatoes, quartered
Olive Oil
1 large onion, diced
3 tbsp garlic, minced
1 cup beef broth
1/2 cup Balsamic Vinegar
2 Tbsp brown sugar
2 Tbsp soy sauce (or Bragg's aminos)
1 Tbsp Worcestershire
Directions:
In a large skillet, heat olive oil then sear each side of the roast. Remove and place inside your slow cooker.
In the same skillet, sauté onions until barely transparent. Add garlic and sauté one minute, to release the flavor.
Surround roast with carrots and potatoes. Sprinkle onion & garlic mixture on top of roast.
In a bowl, combine beef brother, balsamic vinegar, brown sugar, soy sauce, and Worcestershire. Pour over everything in the slow cooker.
Cover and cook on low for 5-6 hours. You know it's done when it's falling apart!
Optional: You may wish to thicken the liquid once the roast is finished. To do so, combine 2 Tbsp cornstarch with 2 Tbsp water, stir into liquid, cover slow cooker and allow to thicken 10-15 minutes.