We recently planted an herb garden on our back porch and I noticed an overwhelming amount of basil. Coupled with the intense craving this baby gave me yesterday for something balsamic, I knew that this one skillet balsamic chicken was in order. When I say "one skillet," it is because I have a set of Calphalon cookware that easily goes from stove top to oven. If you have cookware with plastic handles, you are unable to do this, so make sure you check what you're working with beforehand!
I paired this dish with baked asparagus, drizzled with a bit of olive oil, salt & pepper as well as a brown bread baguette. My entire family loved it! This is also great served with mashed potatoes or your favorite pasta.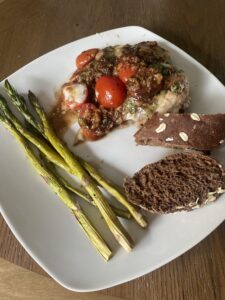 Ingredients:
Sauce:
1/3 cup balsamic vinegar
2 Tbsp honey
2 Tbsp oil
2 garlic cloves, minced (I usually just measure with my heart)
1 Tbsp Dijon Mustard (honey dijon works as well)
1 tsp Italian Seasoning
Chicken & Tomatoes
8 oz grape tomatoes, halved
8 oz mozzarella (balls or shredded)
2 Tbsp fresh basil, finely chopped, plus more for garnish
2 lbs boneless, skinless chicken breast
2 Tbsp olive oil
Salt & Pepper, to taste
Directions:
In a small bowl,  combine all of the ingredients for the sauce. Set aside.
In a separate bowl, toss together the tomatoes, mozzarella, and basil. Set aside.
Preheat oven to 400*F
Heat oil over medium heat in your large oven-safe skillet. Wash & dry chicken. Season with salt & pepper.
Brown chicken for 2-3 minutes on both sides.
Pour sauce over chicken and allow it to come to a simmer. Scrape the bottom with a wooden spoon. Remove from heat.
Top chicken with tomato mixture.
Place entire skillet into the oven. Bake for 19-25 minutes, or until chicken reaches an internal temperature of 165*F
Serve chicken topped with sauce & enjoy!