If you haven't figured it out already, here at Coffee. Mom. Repeat. we really like our coffee. But, coffee isn't complete with a little treat to go with it! This coffee cake is simple to whip up and your guests will absolutely love it!
Ingredients:
CAKE BASE
1 stick butter, softened
3/4 cup sugar
1 tsp vanilla
1 egg
2 cups flour
2 tsp baking powder
pinch of salt
3/4 cup milk
FILLING
3 tablespoons butter, softened
1 tablespoon cinnamon
1/2 cup flour
1/2 cup packed brown sugar
TOPPING
5 tablespoon butter, softened
3/4 cup flour
1/2 cup packed brown sugar
1 tablespoon cinnamon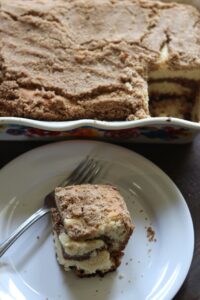 Directions:
Preheat the oven to 350* Fahrenheit.
In a large bowl, cream together the butter and sugar, scraping down the sides occasionally. Add the vanilla and egg, stirring until combined.
In a separate bowl, combine the flour, baking powder and salt. Add one half of it to the bowl that contains the sugar, butter, vanilla, and egg. When mostly combined, add the milk. Once the milk is incorporated, add the remaining flour.
To make filling: in a small bowl, pinch together the softened butter, flour, sugar and cinnamon until soft crumbs form.
To make topping: add the butter, flour, brown sugar and cinnamon to a food processor and pulse until coarse crumbs form (You can also cut in with forks or a pastry cutter).
Pour  ½ of cake batter into a greased a 9×9 baking pan and spread to all four corners. Sprinkle the filling over top patting the filling slightly into batter, then pour in remaining cake batter, and spread carefully across the top, disturbing the filling layer as little as possible (I highly recommend using this to complete this step).
Sprinkle the topping over the top and press lightly so it adheres to batter.
Place in oven and bake 45-50 minutes, until a toothpick inserted comes out clean. Cool on a wire rack before serving.