One meal item my family loves, that I don't make very often, is roast beef. I played around with a few recipes before settling on this mouthwatering recipe that combines garlic, rosemary, sage, and butter to create the perfect roast. It pairs perfectly with mashed potatoes and will leave your entire house smelling delicious.
Ingredients:
3 lb chuck roast
5 garlic cloves, minced
1 red onion, quartered
1 sprig fresh rosemary
1 sprig fresh sage
1 cup butter, softened
Salt & Pepper to taste
Olive Oil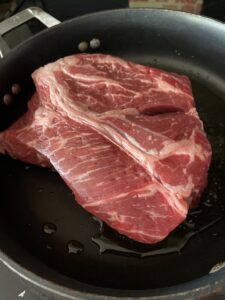 Directions:
Preheat your oven to 425* Fahrenheit.
In a food processor, combine garlic, half the onion, rosemary, sage, butter, and salt & pepper until it forms a spreadable paste.
In a skillet large enough to fit your roast, drizzle olive oil on medium high heat. Sear all edges of the roast until slightly browned.
Place roast onto a cutting board and let cool (or else your butter mixture will melt completely off). Once cooled, spread garlic butter herb mixture all over the roast — completely encase it.
Place into an oven safe dish (I prefer my dutch oven) & set the other half of the quartered onion around the sides of the meat.
Bake for 15 minutes, then lower your temperature to 325*F for 30 mins to 1 hour, depending on how done you enjoy your roast.
Once cooked, remove from oven and tent with aluminum foil. Let set for 20-30 mins. Serve & enjoy!
---
Coffee. Mom. Repeat. may earn a small commission via affiliate links in this post. You can view our whole disclosure policy HERE.