I am a sucker for an amazing bowl of soup. This hearty recipe is the prefect combination of flavor and creaminess that will leave you looking forward to leftovers the next day. Plus, you can add a bit of kale or spinach at the end for an added punch of nutrition.
Ingredients:
1 lb boneless skinless chicken breast, shredded
3 Tbsp butter
1 cup carrots, sliced
1/2 large onion, diced
1 1/2 Tbsp garlic, minced
1/3 cup flour
9 cups chicken broth (we prefer to make our own with this.)
1 1/2 Tbsp Italian Seasoning
2 bay leaves
15 oz can cannellini beans, drained and rinsed
3 Tbsp corn starch
8-9 lasagna noodles, broken into pieces
2 cups half & half
2 cups heavy cream
1 cup Parmesan, shredded
Directions:
In a large stock pot or dutch oven, melt butter. Add carrots and onion. Saute over medium-high heat for 2-3 minutes. Add garlic and continue to cook for approximately 1 minute — just long enough to enhance the flavor. Add flour and stir to combine.
Lower heat and whisk in 8 cups of chicken broth.
Mix remaining 1 cup chicken broth with corn starch. Add to pot.
Stir in Italian seasoning, bay leaves, chicken, beans and noodles. Cook for 20 mins, or until noodles are tender.
Remove bay leaves.
Stir in half & half, heavy cream, and parmesan cheese. Optionally, you may add your kale or spinach at this time.
Serve with your favorite salad or homemade bread & enjoy!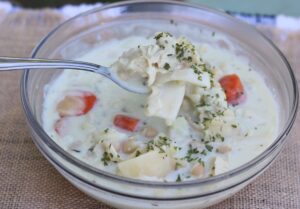 ---
Coffee. Mom. Repeat. may earn a small commission via affiliate links in this post. You can view our whole disclosure policy HERE.