I feel like this time of year I seriously grave everything sweet and chocolate. My husband has talked about Tiger Butter for years and I finally decided to give it a whirl, but with my own twist. I tell you what: nobody in this house was disappointed! Your family will love it just as much as ours (unless you have a nut allergy, of course. You MIGHT could substitute SunButter, but I haven't tried that).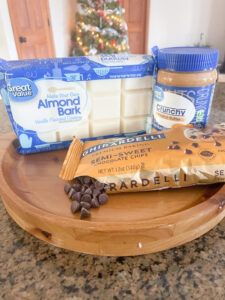 Ingredients:
16 oz Vanilla Almond Bark (contrary to its name, I was surprised to learn this doesn't have any almonds in it at all!)
2/3 cup crunch peanut butter
2/3 cup chocolate chips (+ a small drizzle of vegetable oil to help it spread)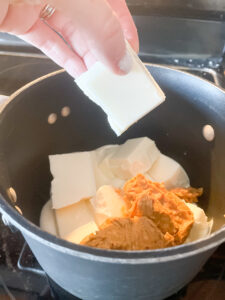 Directions:
Break apart almond bark into sections. Combine with peanut butter in a medium size sauce pan until completely melted.
In a second, smaller, sauce pan, melt chocolate chips with the small drizzle of vegetable oil.
Line a baking sheet with aluminum foil (the larger the sheet, the thinner your park will be). I used a cookie sheet.
Spread almond bark/peanut butter mixture evenly across the foil.
Drizzle the chocolate chips across the almond bark. Gently drag a knife through both mixtures to create a marble effect.
Let sit until hardened or pop into the fridge to speed up the process.
Break apart & enjoy!