I know I am always looking for ways to trim our expenses around the house. For myself, it's done so we can pay off our homes and my husband can find a local job instead of traveling the country away from us. For others, it's done out of necessity to make ends meet. While we know not all of these options will apply to everybody, you may find a few of them that will help your family succeed. Here are our 10 favorite ways to save money:
1. Meal Plan (& stick to it!)
Our grocery bill can really get away from us, especially when we don't have a game plan when we head to the market, purchasing whatever looks appetizing at the time. By formulating a game plan ahead of time, we have been able to cut hundreds off our grocery bill each month. Meal planning can be time consuming if you enjoy variety in your diet, but once you find the recipes you know and love, it will be a breeze.
I plan meals that contain multi-purpose ingredients. For example, a container of sour cream will be used in chili and on fajitas, or a head of cabbage will be cooked up as both cabbage rolls and thrown in homemade lo mein. This has saved me so much money and produces less waste on our part. We have had far too many months where I clean out the fridge & throw away nearly completely full containers of food because I only needed a tablespoon or two of the product.
Shopping seasonal items is key. For example, in the middle of summer a single pomegranate, my daughters favorite fruit, will run me close to $5 per fruit. In December, I can get the same pomegranate for $0.99, so she gets more of them then than versus when they're more expensive. Grab a few turkeys while they're on sale around Thanksgiving and throw them in the deep freeze for an inexpensive meal option later in the year (Bonus: One turkey can easily provide 4-6 meals — just get creative!)
In addition, baking & cooking from scratch and keeping a well stocked spice cabinet has helped me lower our grocery bill. I can spend around $2 making a batch of cookies versus spending $5+ for the same amount at the store.
If you're interested, we created a 2-week meal plan HERE.

2. Shop your insurances annually
Insurance rates fluctuate, your driving record changes, and new discounts are added periodically so I have found it's important to shop all of our insurances at least annually to ensure we are receiving the best rate. I find a local independent insurance agent to handle this task for myself. A quick google search of your area will allow you to find one that is close by. Just remember to check over your quotes before purchasing to ensure your coverage has been compared at least apples-to-apples, if not increased to give you a better rate. NEVER drop your automobile coverage to state minimums because there's a very high chance you will end up paying out of pocket for damages in excess of your policy limits, if you're involved in an accident (and don't say it'll never happen because nobody plans to get into an accident!). As an added bonus, a lot of insurance companies offer a discount if you're able to pay for your policy in full at binding, so make sure to check if that's an option!
3. Shop for Birthdays & Holidays Year-Round
Shopping all year for birthdays and holidays not only lowers your stress around these seasons, but also provides you with an amazing opportunity to save big on items in the off-season. Just make sure you keep track of how much you're spending to ensure you're ultimately staying within your budget. We have a phenomenal deals group dedicated to finding you the best deals on toys, games, clothing, and household items. If you're not a member, come join us HERE.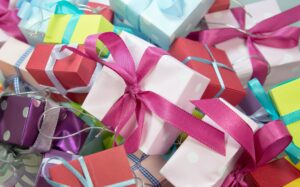 4. Lower your cable package, if possible
With nearly everything being available online, and streaming services such as Disney+, Hulu, and Netflix, my family has been able to completely eliminate our cable bill. If nixing this service completely isn't something you wish to do, I highly recommend calling your cable company to negotiate a lower amount. A lot of times, they will have new packages available at a much lower rate than you're currently paying. Since you're already a subscriber, they will not automatically apply these new packages or discounts to your account — you will have to call and request it.
5. Don't be afraid to buy generic
While I completely understand store brand items may not always take or function the same as their brand name counterparts, there are a lot of generic items that do! For example, my daughter prefers the store brand Ranch dressing from Save-A-Lot over Hidden Valley and I've never come across a brand name canned tomato or bean product that I preferred over the less expensive version. Keep in mind, however, that sometimes the brand name product may be on sale, making it less expensive than the store brand — so make sure to always read the tag on the shelf before you throw that box or can into your cart.
Try the store brand version of every product you use, and stick with the ones that actually meet your taste and needs.
6. Utilize the personal shopper feature at your local grocery store (or Walmart)
It may feel "boujee" to order your groceries online and have someone else shop for and load them into your cart, but this is a great way to keep track of the amount you're spending as you go. It also prevents you from impulse buying as you are walking through the store. Marketing departments are phenomenal at product placement to encourage you to spend more than you need to on items that you probably don't need. So, skip the trip & let someone else shop for you instead. Please note, some stores to charge a nominal fee for this service, however, I have found that that $5 or so ends up saving me at least double each trip.
Grocery shopping your only "me time"? That makes this feature even better! Grab a hot cup of coffee and enjoy it before it gets cold for some self-care time, then swing by and grab your groceries on the way home. It'll be our little secret ;).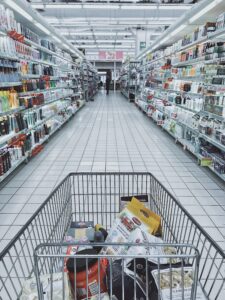 7. STOP eating out so much!
I know this one is kind of a no-brainer, but food cooked at home is way more affordable than swinging through the drive-thru whenever you're out. For my family of 3, we spend an average of $25 at the drive-thru and we don't order anything fancy or out of the ordinary. When we know we will be gone for a large portion of the day, I will pack a small cooler with finger foods. Also, a lot of vehicles have regular outlets in them, so if yours is equipped with that, a slow cooker w/ a locking-lid can be a real life-saver.
Trust me, I know it's convenient to pull up to the speaker and order, but your wallet will thank you almost immediately.
8. Clean up your auto-renewals
A few months ago, I combed our bank and credit card statements to see what products and services I am still paying for, but we don't ever use. A lot of pay-to-use apps are set up on auto-renewal and charge the card on file a few dollars every single month. For example, I had a $16 OnStar subscription that allowed me to unlock my vehicle's doors & remote start it via the OnStar app (I checked and it was not the emergency services OnStar package). I vaguely remember signing up for this TWO YEARS AGO! That's $384 wasted on an app I never use. I also remembered that I have a Chevrolet app that allows me to do the same exact thing, so that subscription was the first to go. Lowering your Netflix package to only one or two TVs or cancelling music apps & finding a free version can save you big in the long run.
9. Check out FREE local events for entertainment
I know things are a little out of the ordinary right now with the pandemic, but there are usually quite a few free events within an hour drive of any home. Taking advantage of these opportunities is a great way to learn about what makes your area special. Just remember to pack your lunch & snacks before you go so you're not tempted to splurge on eating out.
10. Nix the soda
Please don't kill me for suggesting this, but it's amazing how much money is wasted on sodas and other sugary drinks (not to mention how terrible they are for your health). Get rid of the soda and invest in a good water filter (we prefer the ZeroWater brand) to watch the savings stack up. I invested in some good CamelBak water bottles for my daughter (while they were on sale, of course!) so she always has a drink nearby.
So, there you have it. Our 10 favorite ways to save money. These suggestions don't necessarily have to only apply to a stay-at-home parent either! If you have anything to add to this list, feel free to let us know in the comments!
Oh, and don't forget to join our amazing DEALS GROUP!

---
Coffee. Mom. Repeat. may earn a small commission via affiliate links in this post. You can view our whole disclosure policy HERE.