Did you know that Amazon offers clippable electronic coupons? Everyone is eligible to use the coupons and you can stack the coupon with your subscribe and save. There are several ways to find these coupons.
You may come across the coupon on an item page itself:
So while you are checking your favorite items, take a quick note to see if there is a coupon available.
Another way to see all the coupons available is to visit the coupon page.
All you need to do is click clip coupon. Once you clipped the coupon, it will open up to a page of eligible items for your coupon, as shown below.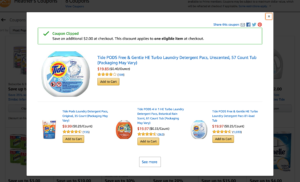 So now, you have the $3.00 coupon to use with the items below.  In addition to your coupon, four of these items are eligible for subscribe and save. So if we chose the Tide Pods, 57 count for $19.83, we could save $2.00 + 5%.
So our order would look like this:
Tide Pods $19.83
Minus 5% Subscribe & Save Discount $18.83
Minus $2.00
Total $16.83
A few things to note: You will get the 5% discount on the selling price, before coupon. Also, you will not see the 5% discount when you click subscribe now the first time. No worries, because this is not your final order.
In your subscription summary, you will see the Subscription Discount and then the Coupon Savings listed separately.
Note: you will only get the coupon savings on your first order shipment
If you are purchasing this item because of a coupon, you must be sure to cancel the subscription before the next shipment cycle.
Take Note:
How many items does one coupon apply to?
Think of them like manufacturer coupons – one coupon per product. You can only use one coupon even if you purchase 12 of the same product.
Can I cancel a Subscribe & Save item that I used a coupon on? 
If you cancel an order that you have already redeemed a coupon on – you lose that coupon. The coupon does not reappear. You can resubscribe to another item, but you will not be able to use that coupon at that time. Amazon's systems shows that you have already redeemed it.
Can I use the same coupon on multiple SKUs for the same item?
No, you can't use the Degree coupon on the Degree for Men and the Degree for Women. It is a one time use coupon. Again, think of it like manufacturer coupons – you will only be able to use it once  if it says Degree for Men or Women.
When are there new coupons?
Amazon Coupons restock periodically and at the moment, I haven't found any good way to determine expiration dates – Amazon only says:  Coupons are valid for a limited time only. Amazon reserves the right to modify or cancel coupons at any time.