Sometimes a nice, simple meal is what we need in order to keep our sanity and our days running a little smoother. This meal only has a few ingredients and cooks all in one dish, making for easy clean up! I used sugar snap peas, but you can easily substitute green beans and still receive the same delicious meal.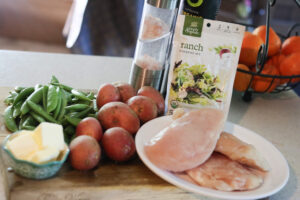 Ingredients:
1 1/12 lbs boneless, skinless chicken breast
1 lb red potatoes, diced
1 lb sugar snap peas or green beans, rinsed
1 packet ranch dressing mix
4 Tbsp butter, melted
4 Tbsp olive oil
Salt & pepper, to taste
Directions:
Preheat the oven to 375* Fahrenheit and prepare your baking dish with a light coating of non-stick spray. Set aside.
Dice your potatoes and place them in one half of the dish.
Place the snap peas or green beans in the other half. Dust with salt & pepper to your liking.
Season the chicken breasts with salt & pepper and place them on top of the vegetables already in the dish.
Sprinkle the ranch dressing mix evenly over everything in the dish.
Combine the melted butter and olive oil. Pour over contents of dish.
Cover with foil. Place into the oven and bake for approximately 1 hour, or until the potatoes are fork tender and the chicken is cooked thoroughly.
Serve with your choice of artisan bread or a side salad and enjoy!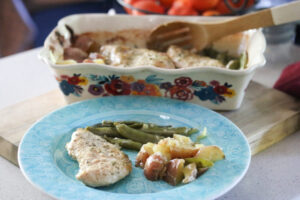 ---
Coffee. Mom. Repeat. may earn a small commission via affiliate links in this post. You can view our whole disclosure policy HERE.