In addition to being able to grill the perfect steak, my husband is the absolute best at making biscuits and gravy. It took a bit of trial and error, but this is one recipe my daughter will ask for every single weekend he's home. He tried a few different sausages, but found that the Jimmy Dean Sage Sausage is best for this one.
Ingredients:
1 lb Jimmy Dean Sage Breakfast Sausage (it's in a log shaped package)
1 can flaky biscuits
3 Tbsp butter
1/4 cup flour
3 cups milk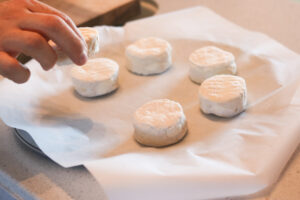 Directions:
Preheat oven and cook biscuits according to package directions.
In a large skillet, brown the breakfast sausage until cooked thoroughly.
Add butter, stirring well to coat.
Sprinkle in flour until thoroughly coated
Slowly pour in milk, stirring over medium heat until gravy has reached desired consistency.
Serve biscuits open-faced with gravy on top.
---
Coffee. Mom. Repeat. may earn a small commission via affiliate links in this post. You can view our whole disclosure policy HERE.