Since High School I have struggled with my image and my weight. I have been bulimic, anorexic, and addicted to diet pills. I've obsessed over my size, going so far as to refuse to eat for the entire day if I stepped on the scale and it was anything above 110 lbs. I was extremely unhealthy.
After my mental breakdown in August, I learned the importance of taking care of me before I can take care of anybody else. One of the things my therapist challenged me to do was to complete everything on the list of things I wish to accomplish in life. "Get fit" was on my list.
I have always struggled with self-image and my weight. At the beginning of this journey, completely uncensored, I weigh as much as I did when I was admitted to give birth — at 41 weeks pregnant. For the last three months I have been working diligently with an amazing trainer, but I know that nutrition goes hand-in-hand with my goals and that I can't out-exercise a bad diet.
I noticed that I will either overeat or not eat at all.  I was so confused about what to eat, how much to eat, and when to eat. There are so many conflicting articles on the internet that it just frustrated me further. So, I decided search for help elsewhere.
For the last few months I have worked directly with Brittany from Total Unique Fitness and have learned more than I could have ever imagined. Brittany is a NASM Nutrition Specialist as well as a certified personal trainer so when I expressed my concerns and goals with her, she knew exactly what I needed and how to get me where I want to be.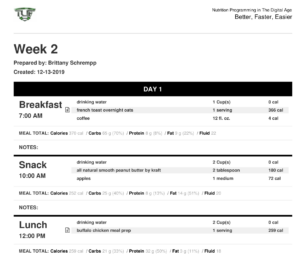 The first two weeks I followed an eating plan designed by Brittany. It laid out what I needed to eat as well as when I needed to it it. She was able to calculate the amount of calories, carbohydrates, etc. I need and listed out exactly how to achieve that for the day. I am so thankful she did this for me because I would have continued to strive for only 1200 calories per day when, in reality, my body needed 1600-1800 calories per day! I would have continued on my hamster wheel and produced zero results.
The recipes she included for me included enchiladas, an amazing apple cinnamon oatmeal recipe, as well as informed me not to be afraid of carbs. It was really easy to meal prep because all I needed to do was shop using the grocery list she provided (yes! She even wrote out a shopping list!) and spend an afternoon preparing for the week. I used meal prep containers and a dry erase marker to label what I needed to eat and for which meal (breakfast, snack #1, lunch, snack #2, etc.). She also stressed the importance of drinking enough water, which I absolutely did not do beforehand. (Warning: You will pee like crazy when you first start increasing your water! But, your body will eventually get used to it.)
She also instructed me to clean my fridge completely out, so I wouldn't be tempted by anything that would hinder my results.
I started to feel absolutely amazing. I had a lot more energy, but struggled with eating everything I needed to in the day. When I brought my concerns to Brittany she told me to listen to my body and don't force myself to eat. If I'm still full from the previous meal/snack, save that meal/snack for a time later in the day when I'm starting to feel a little hungry.
When I started week three, she encouraged me to form my own meal plan and submit it to her for approval. This was to ensure I understood what I needed to do, and was also kind of difficult. I either was writing down too little calories or too many. It took a little while for me to figure it out, but once I did,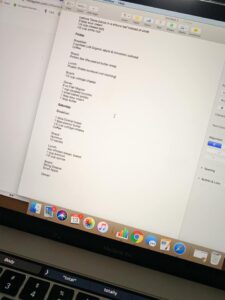 it became second nature. I used some of the breakfast and snacks that she used for the first two weeks since they were simple and then built my own lunches and dinners. A lot of times it was easier for me to prepare a little extra at dinnertime so I could have that the next day for lunch. To determine the calories in the recipes I was using, I put the entire recipe into MyFitnessPal online. They have a great tool that calculates this for you.
One thing Brittany pointed out was that instead of using the oatmeal recipe she provided me, I was taking a lazy route and eating the Organic Apple & Cinnamon Oatmeal packets from Lidl. These apparently have A LOT of sugar — too much for my goals. She provided a lot of constructive criticism and was there anytime I had a question.  I was encouraged to add a protein shake after my workouts. I thought I had the correct one, but after speaking with Brittany, she helped me find one that contained an Isolated Whey Protein. This would fuel my body post-workout in all the ways I needed it to and also help with muscle recovery.
I am now 100% creating my meal plans on my own. I also input my calories into MyFitnessPal where she can keep an eye on how I'm eating and continue to coach me, as needed. Brittany's goal was to teach me how to eat, not hold my hand the entire time. She taught me to be independent on this journey and I can't thank her enough for everything she has done. I know that if I have a question, she is only a text or a message way and will answer me as best as she possibly can.
From this experience I have learned that is 100% okay to reach out and ask for help. Don't be afraid to open yourself up in order to achieve your goals. I am so thankful for the guidance I have received from utilizing a certified nutritionist. If you're struggling to reach your health and fitness goals, I highly recommend contacting Brittany for assistance. You can find her on Instagram or via the Total Unique Fitness Facebook Page. She is a really sweet, down to earth person.
Since she is also a personal trainer she offers affordable fitness challenges where she creates a dumbbell only workout and guides you along the way. I hope to be able to take advantage of one of these challenges soon and I hope you will, too.
---
Coffee. Mom. Repeat. may earn a small commission via affiliate links in this post. You can view our whole disclosure policy HERE.