Dear Husband,
Let me take a minute to say, "Thank you." Let me also say I'm not thanking you for the reason you may think. Yes, you are an amazing provider, father, and human being. You are always putting your family first and sacrifice so much sleep and time to ensure we have a roof over our heads and healthy food in our stomachs, but that's not what I am trying to say.
Since our daughter was born, you know I have struggled very much with anxiety and thoughts intrusive obsessive compulsive disorder. These illnesses have been apparent in our marriage for the last six years. You have always been great about helping me find holistic methods to cope. You've always given me time alone when needed, or laid on top of me to act as a weighted blanket when I simply cannot turn my thoughts off. You encourage me in everything I do, and I wholeheartedly appreciate it.
The past seven months or so have been the hardest for me, and I think you noticed it a little bit. You continued to stay by my side, suggesting all the things that have worked in the past for me. However, this time those same remedies seemed to make my anxiety worse. My anxiety led to extreme depression and they seemed to feed off each other. This never-ending cycle threw me into one of the darkest places I had ever been in. Yet, I still tried to maintain a smile to mask the pain I was feeling inside. A pain I couldn't pinpoint the reason behind. I didn't want to burden you with my thoughts and feelings so I tried my hardest to push them to the side so I could continue taking care of our little one and you.
But I couldn't do that.
I couldn't turn my brain off.
The battle I was fighting intensified.
I decided I had to give up. But I knew I couldn't give up on my own. I knew I couldn't do the unthinkable alone. I knew what I wanted to happen, but I was too much of a coward to actually follow through. Something inside me said, "if he truly loves you, he will help you." So, one night, I curled up in your arms and asked you to kill me. I felt so comfortable speaking those words. I truly felt as though it was my only option at that point to escape whatever was affecting me mentally.
I could tell you were shocked. Angry. Confused. I think at that moment the proverbial glass shattered and you were finally able to see exactly how broken I was. You immediately told me that you absolutely would not do what I just asked you. At that point I felt totally and completely defeated. If the one person that I trusted more than anything in the world wouldn't help me, I had no idea what to do. So, I tucked my feelings back in and trudged on.
A few days later you encouraged me to meet you at a hiking trail. You insisted on picking up dinner for the three of us (our daughter and you and I). We walked through nature for a bit before settling down on a log to eat our sandwiches. You opened up to me about all of the research you had continued to do in an effort to fix whatever was going on. You told me about a Himalayan Rock Salt cave local to us that was allegedly amazing for treating depression. You mentioned women's retreats I could possibly go on. You mentioned contacting a therapist so I had someone to talk to that could really understand what I was going through. You took the effort and made me an appointment, stating, "if you're truly not comfortable, you can cancel the appointment, but I took the first step for you."
I was surprised you made phone calls. You! The guy who argues with me about calling to order pizza, called a business to find me help! That spoke volumes to me. I didn't realize it when I was curled up in your arms previously, but death was not the answer to the help I was seeking, no matter how badly I wanted it. My help would come from elsewhere – from a source I should have considered all along, but was too blind to see.
It's been about a month since I started seeing my therapist and I am still alive. I no longer have feelings as intense as I did when I broke down to you. I want to live! I want to conquer everything in this world I have ever imagined. I want to take life by the horns and show it that it cannot defeat me. I want to do it all with you right by my side.
So, husband of mine, I thank you for saving my life. You're my absolute best friend in the entire world. I honestly would not be here without you. Without your love. Without your care. Without your support. Thank you. Thank you. Thank you.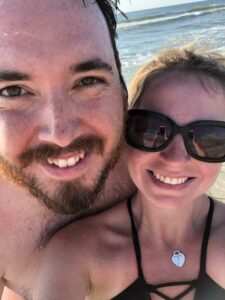 If you or someone you know is struggling with thoughts of suicide or depression, please call the National Suicide Prevention Lifeline at 1-800-273-8255
---
Coffee. Mom. Repeat. may earn a small commission via affiliate links in this post. You can view our whole disclosure policy HERE.