Besides Halloween, I think Valentine's Day is my daughter's favorite holiday. She loves to craft, bake, and try to make the day special for everyone around her. She was super excited to do these heart shaped cinnamon rolls. They're really simple to make with little ones!
Ingredients:
1 can Jumbo Cinnamon Rolls
Sprinkles
Optional: Food Coloring
Directions:
Preheat oven according to cinnamon roll package directions
Open cinnamon rolls and separate.
Unroll slightly, leaving middle spiral intact. Spiral unraveled end to look like middle spiral.
Pinch the ends slightly to give the bottom peak.
Place into a parchment lined round cake pan and bake according to package directions.
Remove from oven and let cool slightly.
Frost as you would normal cinnamon rolls. You can add a bit of food coloring to the icing, if you prefer, to change its color.
Top with your favorite sprinkles & enjoy!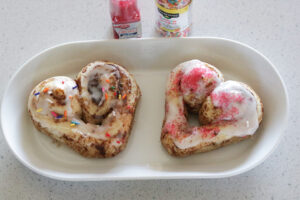 ---
Coffee. Mom. Repeat. may earn a small commission via affiliate links in this post. You can view our whole disclosure policy HERE.