The Holidays bring decorations, a change in weather, and cookies galore. This year I am traveling a lot, but my daughter and her cousins asked to make cookies. Thankfully, my sleep-deprived state brought about this "lazy" approach to cookie decorating since I did not want to mix dough to roll out and cut and our local Walmart did not have break and bake cookies. All of the children thought it was a hilarious idea and absolutely loved it!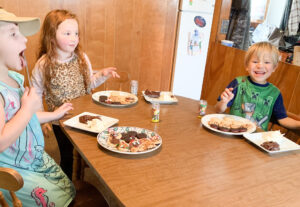 What you will need:
Various packed cookies. We chose Chips Ahoy!, Oreos, and Pralines.
One or more tubs of ready made frosting
Various Christmas Sprinkles
Plates, butter knives, bowls (optional)
Now you just open everything up and let their imagination soar! These three had a blast making designs with the sprinkles, eating the cookies as soon as they were decorated, and licking their utensils!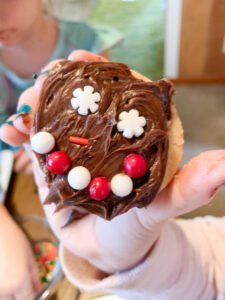 I think this may just be a new Christmas tradition for our family!
---
Coffee. Mom. Repeat. may earn a small commission via affiliate links in this post. You can view our whole disclosure policy HERE.