To me, September signals the start of the autumn season and happiness all around for myself. I love the look and smell of the falling leaves, and really look forward to the cooler weather. My family, on the other hand, looks forward to all of my pumpkin packed recipes. This morning my six year old asked me when I was going to make my fluffy pumpkin pancakes. Thankfully, I had a can of pumpkin puree in the cupboard so I could indulge her palate. As we were mixing these up together, she happily informed me this recipe would be perfect to share with my community. So here you have it: my recipe for the fluffiest pumpkin pancakes you may ever enjoy.
Ingredients:
Dry:
2 Cups flour
3 Tbsp brown sugar
2 tsp baking powder
1 tsp baking soda
1 tsp nutmeg
1 tsp cinnamon
1/2 tsp salt
Wet:
1 1/2 cups milk
1 Cup pumpkin puree (not pumpkin pie mix)
1 egg
2 Tbsp oil (I use olive oil, but vegetable oil will also work)
2 Tbsp vinegar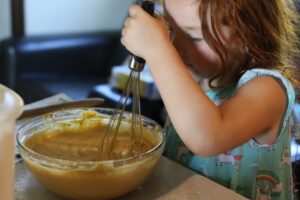 Directions:
Mix wet ingredients in a large bowl.
Mix dry ingredients in a medium bowl.
Slowly stir dry ingredients into wet until combined. Do not over mix.
Cook over medium-high heat as you would regular pancakes. I love to add a tbsp of butter to my pan to prevent them from sticking. Enjoy!Note: Leftovers can easily be frozen. To warm up, pop it in a toaster for a few minutes!
---
Coffee. Mom. Repeat. may earn a small commission via affiliate links in this post. You can view our whole disclosure policy HERE.