Lately I have been feeling as though we are in a snack/dessert rut. It seems as though it's always the same thing: cake, ice cream, cookies, or a sweet cereal to curb that sweet tooth after dinner and before bed. Tonight, I figured I would try these peanut butter banana bites, but with a twist – dark chocolate and a touch of sea salt. My instinct was right on the nose because these are absolutely delicious! My daughter was asking for more! They're really simple to make and I hope you enjoy them as much as we are.
Ingredients:
Ripe bananas
Natural Peanut Butter
Your favorite chocolate chips (we used these ones)
Sea Salt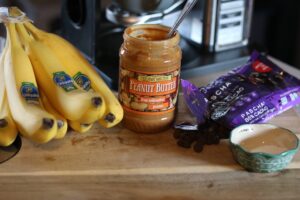 Directions:
Slice bananas into 1 inch slices
Top slices with a dollop of peanut butter. (I found it easiest to do with two spoons, as if I was placing cookie dough onto a baking pan.)
Place slices on a tray covered in parchment paper. Freeze for 15-20 minutes, to firm the peanut butter.
Melt chocolate in the microwave in 30 second intervals. Stir. Repeat until melted. It may take 3-4 rounds.
Place bananas into chocolate mixture. Spoon chocolate over the bananas. Remove and place onto a tray with a clean sheet of parchment paper.
Top with a bit of sea salt.
Freeze for 20-30 minutes, until chocolate is hardened.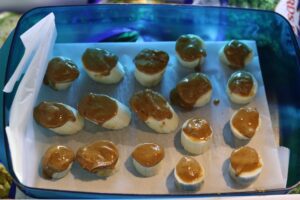 You can either keep them in a closed freezer-safe container to eat at your will, or place them into the refrigerator to prevent chocolate from melting.