Leave it to my husband and daughter to concoct the best food recipes possible! Their sense of imagination when it comes to pleasing the palate astonishes me at times! A few years back, my husband tweaked this recipe for chicken taquitos and it's been a staple in our dinner rotation ever since!
Ingredients:
1 lb boneless, skinless chicken breast
6 oz cream cheese (about 3/4 of a brick), cut into smaller chunks
10-14 fajita sized flour tortillas
1 cup shredded cheese (we rotate between colby jack, cheddar, and fiesta blend)
1/4 cup water
Fajita seasoning:

1 teaspoon chili powder.
1 teaspoon paprika.
1 teaspoon garlic powder.
1 teaspoon cumin.
1/2 teaspoon dried oregano.
1 teaspoon sea salt.
1/4 teaspoon fresh ground pepper

Cooking spray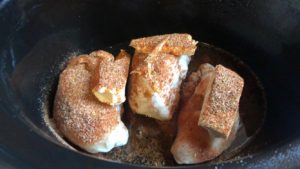 Directions:
In your slow cooker, layer the water, chicken breast, cream cheese, and fajita seasoning. Cook on low for 4-6 hours, or until done.
When chicken is cooked thoroughly, shred chicken inside slow cooker (these make it SO easy!). This will also mix the seasoning and cream cheese into it more. Add shredded cheese and stir to combine.
Preheat oven to 375* fahrenheit.
Spoon chicken and cheese mixture into tortillas and roll up. You do not need to tuck the ends in like a burrito, but make sure there is room because it will bubble out when baking.  Place rolls onto a greased baking sheet, seal side down.
Once all taquitos have been placed on baking sheet (feel free to squish them together to make them fit. I sometimes need an additional baking sheet), spray with cooking spray so they don't burn.
Bake for 10-15 minutes, or until browned, but not burnt.
Let cool and serve! My family enjoys these with a bit of sour cream.