1. Skip the Venti and pocket $0.60.
Want to optimize your caffeine to coffee ratio? The Grande has the same amount of espresso as the Venti (2 shots, or 150 mg) when you order hot beverages. The price difference is around $0.60, so opt for a Grande next time!
You do you: Use Raise.com and buy Starbucks gift cards for less! Save $5 off your first purchase of $25 or more at Raise.com when you use coupon code RAISE25AF  at checkout!
2. Craving Chai? Opt to get a Chai tea instead of a Chai tea latte—you get free refills and you'll save $1.80.
Note: Unless you ask for unsweetened, assume your iced tea will be sweetened.
3. Download the Starbucks app for freebies and extra rewards.
This is our favorite! Not only do you earn free drinks on your birthday, when you order a drink a week, you're eligible for freebies (one free coffee for every $75 spent). Keep an eye out for Bonus Star opportunities inside the app!
4. Get a Grande cup for your Tall drip coffee and save as much as $0.30.
More than just the cost savings, when you go this route, you also have room in your cup to add cream and sweetener without spilling all over yourself (or your car).
Added tip: Save money by adding your own milk at the bar.
5. Get twice the drink when you request 'light ice.'
When you order more ice, you end up with less beverage in your glass. Nobody has time for that!
Also, Iced Coffee comes sweetened with Classic Syrup. For no extra cost you can switch out the classic syrup for Mocha or White Mocha to make a mocha drink for half the price, just add your own milk at the counter!
Bonus tip: Order the Americano and knock back added caffeine for even less!
6. Save $0.10 when you bring your own cup.
Starbucks totes recycling in everything they do, including recycling their coffee grounds. Bonus: if you're a gardener, you can ask your local barista for their leftover grounds for your garden!
Not only can you accessorize your own coffee cup to match your mood, you can save up those extra dimes toward a free pastry!
7. Split a Venti and save $1.65.
Bringing a friend? It's cheaper to order the Venti than two smaller drinks.
8. Pay with the app and score FREE refills on drip coffee and tea.
As long as you stay in the store, you can stay caffeinated. Refill your drip coffee or your iced tea for FREE when you make your initial purchase in the app.
9. Order a 'Short' latte and save $0.10.
These fun-sized drinks (8 oz. versus a 12 oz. Tall) contain the same amount of caffeine for less money (you get less milk-to-espresso)!
10. Order tea "without water" and save $2.25.
We weren't exactly sure how this made sense until we tried it.
Just say no to H2O, and you get double the drink for the same amount of money. This is because you get extra-concentrated tea, for more oomph. Also, if you order tea without water in a double cup and ask for an ice water on the side, you can score half price tea! We all know half-price tea is King.
11. Score a FREE Puppuccino.
You heard me right. This is simply an espresso cup filled with whipped cream. Your dog will love you.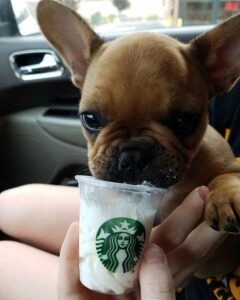 12. Ask for a glass of water instead of buying it by the bottle.
Never pay for water; the tap water is always filtered and used in a variety of drinks.
13. Score freebies when with their Rewards program.
The old Starbucks Rewards program offered two levels of status — Green and Gold — and you had to earn 300 "stars" before you could even think about cashing in for free drinks and food. In fact, once you earned 300 stars, you'd achieve Gold Status and then you had to earn an additional 125 stars to get a freebie!
Now, you'll keep earning two stars per dollar you spend, but you can cash in once you earn only 25 stars. This means you can start getting freebies in as few as two to three visits — depending on how Starbucks-addicted you are.
Here's what you can earn:
25 stars: Free extra shot of espresso, dairy substitute or extra splash of syrup
50 stars: Free brewed hot coffee, tea or bakery item
150 stars: Free handcrafted drink (latte, mocha, etc.), hot breakfast or parfait
200 stars: Free lunch sandwich, protein box or salad
400 stars: Select merchandise or at-home coffee
Note: Although you will accrue points, these rewards are not redeemable at kiosks located inside grocery stores such as Kroger, Ingles, and FamilyFare.