I have been obsessed with all of the creations coming out of the groups that focus solely on Dollar Tree DIY. When I saw this pumpkin totem, I knew I had to make it! It was simple to make & looks amazing on my front porch. Making it was super easy. All you need is:
– 4 pumpkin trick-or-treat buckets
– 2 nautical rope cuttings
– E-6000 glue
– Hot glue gun & glue sticks
– White spray paint
– Your choice acrylic paint for the eyes
Step 1: Remove the plastic handles & spray paint the buckets. It took three coats to completely cover the bucket for myself. Allow to dry completely.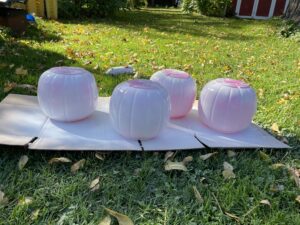 Step 2: Paint the insides of the outlines of the pumpkin face with your acrylic paint. I opted for rose gold, but you can do any color. Allow to dry completely.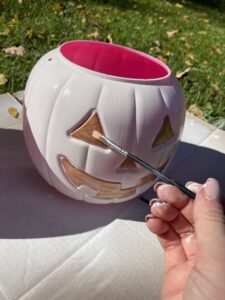 Step 3: Place a few small rocks into the bottom pumpkin to keep it stable & from falling over in the wind. Using your E-6000 glue, attach each pumpkin as a totem. The pumpkins I chose were able to fit inside each other nicely. This type of glue typically takes 24-hours to cure, but if you're careful, you can move on to Step 4 in about an hour.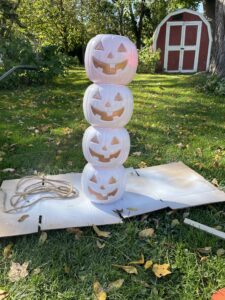 Step 4: Using your hot glue, attach the nautical rope where each pumpkin is attached to the next. I did 2 passes of the rope.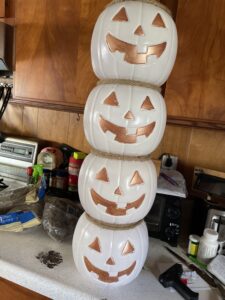 Step 5: This step is solely up to you & your creativity. You can add flowers on the top of the totem. I used crafting Spanish moss & picked up some fall picks from Walmart.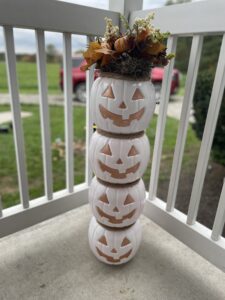 Let your imagination soar!