Coffee. Mom. Repeat. may earn a small commission via affiliate links in this post. You can view our whole disclosure policy HERE.
This time of year has always been a favorite of mine. September through January 1st could stay forever and I would be perfectly content. I love the smell of the leaves as they crunch under my feet and a blanket of snow is always magical. This is also the only time of year I really decorate for the Holidays. Since we're finally in a large house this year, as opposed to our 42′ RV, I am so excited to find and purchase all of the decorations this year! While skimming Etsy, I found a ton that I love! Here are my ten favorite, in no particular order:
Personalized Christmas Ornaments: I decorate farmhouse style so these ornaments are perfect for our tree. I love how simple they are and you can personalize them — which is important to us considering our daughter has an uncommon name. You can find them HERE.
My dog loves to sleep under the Christmas Tree, which causes whatever tree skirt I put underneath it to be constantly moved off balance and it drives me wild! i feel like I am always fixing it so it looks as perfect as possible. When searching for Farmhouse Christmas Decor, I saw this Wood Tree Skirt and immediately fell in love with it! It looks like it is simple to set up & will not only hide your tree watering stand, but also prevent children and animals from messing up your skirt! There are a few colors & styles to choose from HERE.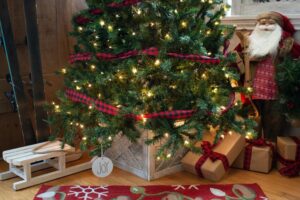 As a kid, I remember having the colorful stockings lining the mantle. None of them matched and half of our names were missing from them. At the time, I loved it, but now that I'm a mama and decorating my own house, I am a huge fan of everything matching. These Personalized Tassel Christmas Stockings fit my decor so well, and with the names not being written in Tulip paint, they're sure to last a lifetime. There are several colors and fonts available. Check them all out HERE.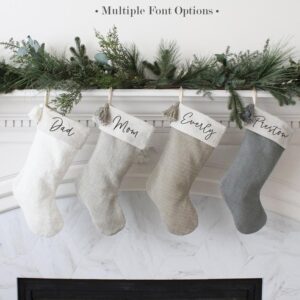 Our Elf, Bobo, typically brings our daughter a jewelry or chocolates advent calendar each year. Typically, half the pieces get lost or she eats additional days and gets off track. I feel as though this Christmas Countdown Sign would be an even better way to countdown the days until Christmas. It's made of wood and has 3D letters, which will help it last a lifetime and then some. The wreath can be moved either as a family or as a surprise the children wake up to each morning. Grab it HERE.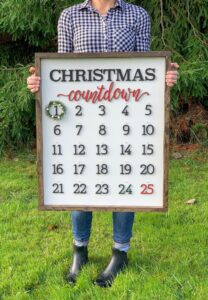 I first heard about noodle boards when I visited my friend. I LOVE the concept of hiding & protecting the top of your stove as well as using it as an additional way to decorate your home. This Christmas Noodle Board is adorable & I feel as though I need to click "add to cart" right now! Purchase one HERE.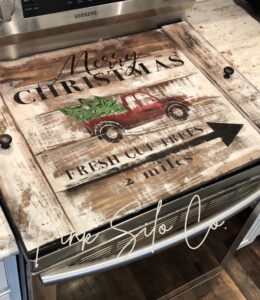 My front entryway has a few all-season wreaths and farmhouse signs and it would be great to swap out a few of them to change up the decor in that area. I am loving this North Pole Bed and Breakfast sign. It would also be great in a guest room, if you're having family visit for the Holidays! You can find it for sale HERE.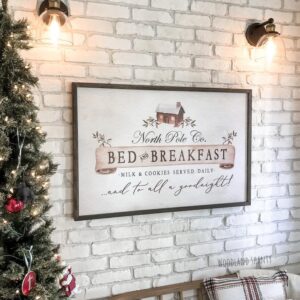 Oh. My. Gosh! I love this Christmas Mason Jar centerpiece for the back of a toilet! I feel like my bathrooms are so plain that this would be an amazing way to change it up and make it a bit more inviting. It's also great for a countertop, mantlepiece, or kitchen table! Grab it HERE.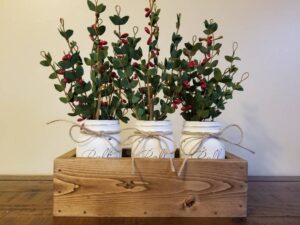 This Farmhouse Christmas Tree would be perfect on or next to the bench in my entryway. It's available with or without bells. Grab a few of them and create a small "farm." Find it HERE.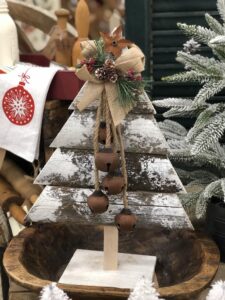 Mistletoe is a must during the Holiday season. It's so fun to carry on the tradition and watch my daughter's face light up when mama and daddy get caught standing under the mistletoe together. This artificial mistletoe bunch will last a lot longer than a real cutting. Snag it HERE.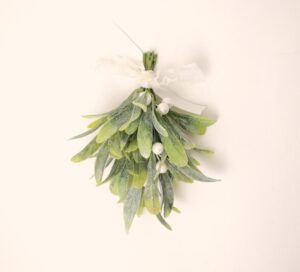 I have always liked the idea of wrapping everyone's gifts and putting them in them inside their own gigantic gift bag. These Christmas gift tags would be perfect to put on one of those gigantic sacks or just include on a gift for a loved one. You can personalize them HERE.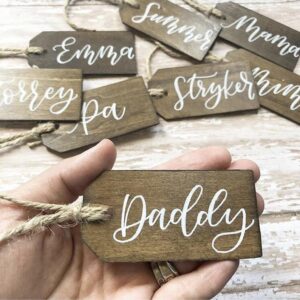 There you have it: my ten favorite Holiday decor items on Etsy right now. We would love to hear how you decorate your home during the Christmas season, so make sure to let us know below! For additional help with gift or decorating ideas, check out the Etsy Holiday Gift Guide!