Hands down, my husband is the grill master. He's kind of all things carnivore so when he agreed to let me share his hamburger patty recipe with you, I had to jump on it right away! You'll want to Pin or save this recipe for later, because your family (and guests) will be begging for more! Each recipe will easily make 4-5 patties.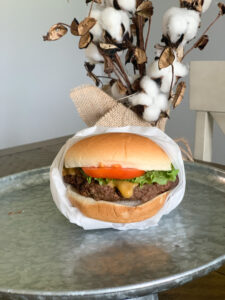 Ingredients:
1 lb hamburger
1 egg yolk
1 Tbsp dijon mustard
1 Tbsp ketchup
2 shakes Worcestershire sauce
1/4 cup breadcrumbs, seasoned
1/4 cup red onion, finely chopped
Salt & Pepper — to taste
Directions:
In a large bowl, combine all ingredients. Be careful not to overmix.
Using a burger patty press, shape burgers & set aside on wax paper.
Pre-heat your outdoor grill.
Grill 4-minutes on each side, or until desired level of doneness.
Top with your favorite vegetables & condiments and enjoy!
---
Coffee. Mom. Repeat. may earn a small commission via affiliate links in this post. You can view our whole disclosure policy HERE.