A little known fact, but today is National S'mores Day. I will admit, I only know this because it is a Girl Scouts fun patch my daughter is able to earn. Mama forgot to pick up the ingredients for traditional S'mores and when I went to our local Family Dollar they only had mini marshmallows, so we opted to celebrate today in a non-traditional way. This S'mores bake was super easy to make and you do not lose out on any of the gooey goodness of one made over the campfire!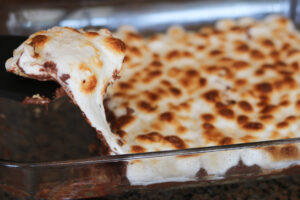 Ingredients:
2 cups graham crackers, run through the food processor or smashed to bits (approximately 1.5 packages — the ones INSIDE the box)
8 Tbsp butter, melted
1/2 cup confectioner's sugar
4 XL Hershey Bars or 6 packages of snack size Hershey Bars (5-packs)
1 16-oz bag miniature marshmallows
Directions:
Preheat oven to 350* Fahrenheit.
Run your graham crackers through a food processor, or place into a gallon size ziploc bag & smash with a mallet or rolling pin until finely crushed.
In a medium-sized bowl, combine melted butter, graham crackers, and confectioner's sugar.
Grease a 9″x13″ baking dish. Spread graham cracker mixture into the bottom of the pan. Use your hand to firmly press crust into place. Bake for 8 minutes. Remove from oven & let cool.
Top graham cracker crust with Hershey Bars, making sure to cover as much of the crust as possible. Place back into oven and bake 2 minutes, until chocolate is starting to melt and is shiny.
Remove from oven & let cool 2-3 minutes.
Change oven temperature to broil.
Evenly spread mini marshmallows on top of chocolate layer. Lightly press into the chocolate.
Broil for 1-2 minutes, or until slightly brown. You need to watch the oven because they will burn easily and quickly!
Let cool completely before cutting.
Enjoy!