Growing up in a small town, our school occasionally welcomed exchange students from all over the world. I always thought it was really neat and I will never forget the young man from Poland I had the opportunity to connect with in P.E. class and study hall. I found his travels fascinating! It seemed like an amazing opportunity to travel to an entirely different country as a teenager to learn about their customs. So, when my husband and I purchased our first home, I knew it was an experience I wanted to give to a younger person.
Once I considered the idea, it was as though Facebook knew what I was thinking because I suddenly saw advertisements for a program called Academic Year in America (AYA). I kind of bombarded my husband with the idea. Luckily, he was on board and we began the application process. AYA made it easy. We had to have background checks completed, provide references, and have a home check completed before we were allowed to view the individuals wishing to come to America. We set up a bedroom for our future "child" complete with a bed, desk, and night stand. We left the walls blank so he or she could use them as a canvas to either paint or hang their own artwork and family photos on.
Once we passed the application process, we were granted access to the profiles of those who had applied to the AYA program. They had students from all over the world. Their profiles included their name, age, photos, and a letter to their future host family telling a little about themselves and explaining why they wanted to study abroad. My husband, my daughter, and myself enjoyed looking through the profiles and figuring out which student would fit best with our family (after all, you want to make this experience as smooth as possible for everyone involved). There were so many to choose from! We also had the option of hosting for 3-months or 10-months. We opted for a 10-month experience.
Eventually we settled on a sixteen-year old girl from Germany. She presented herself very well and was very excited to have the opportunity to visit the United States. Her profile was bubbly and she had little sisters which was perfect because our daughter was 3 at the time. We were fully confident she would fit right in to our family. Once we selected her, we were given her contact information so we could email back and forth, and eventually video chat with her and her family. It was wonderful! I remember telling her and her mother about Fluffernutter sandwiches (you know the ones with marshmallow fluff and peanut butter). Their faces looked as though we had told them we eat sardines dipped in jam. We knew we had to have her try one as soon as she arrived!
Since she was going to be with us for 10-months, she arrived in August shortly before the school year started in our area. At first she spent a week in New York City with other students in her program, getting to explore and get acclimated a bit to the American culture and expectations. She sent us photos the entire time and we loved hearing about everything she was getting to do while she was there! We did, however, have a little mishap with her flight arriving really early so ended up wandering around the airport for a bit while we figured out where she was! I honestly felt so bad about this because we had planned to greet her with a banner and flowers, but she was happy to see us nonetheless!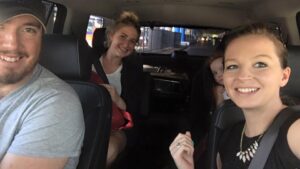 From there we basically dove head first into America. I will never forget taking her to Kroger for the first time (a grocery store where we lived) and seeing her face when she walked in. Compared to grocers in Germany, it was huge! She walked down every aisle looking at all we had to offer. I was shocked to learn that they do not have Chips Ahoy! or Reeses or even Hershey's kisses over there! Of course we had to stock up and indulge her.
After a few days of learning the house and relaxing, it was up to us to take her to the local high school to enroll her in classes. The counselor that helped us do this was wonderful and explained each class to her so she could decide. She was disappointed that they did not offer Driver's Education as a course, so she would not be able to learn or drive in the United States. I tried looking into alternate driving programs for her, but it was determined that unless it was directly through the school as a course of study, it was against AYA rules. When school started, I drove her to and from school for the first week or two and then she rode the school bus the rest of the year. She seemed to fit in really quickly at school, which was absolutely amazing.
Throughout our time together we were able to take her to Disney World, which was a great experience to be able to share. In the Spring we drove up to visit my family in New York and let her invite another student on the trip. We took them to Niagara Falls and stopped in Washington, D.C. on the way back to South Carolina. They both seemed to really enjoy that! Looking back, I wish we would have had more room in the budget and time to take her to the midwest and West coast.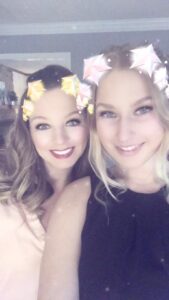 We learned a lot while hosting an exchange student. We learned it takes a lot of love, patience, and commitment to do so. It was difficult at times because the European way of life is different from that in America. We also found it challenging at times to properly discipline a child that is technically not your own. We learned a lot about Germany and Sweden. She tried teaching our daughter how to speak German and taught me how to cook a few German/Swedish dishes. She was extremely helpful around the house as well.
When it came to holidays, we learned how different America is from other countries. She was most excited for an American Thanksgiving! We invited my dad down so we could do the family experience. At Christmas she thought it was hilarious that we put the tree on the roof of our vehicle to bring it home. She also received her first Christmas Stocking, something I did not know wasn't common overseas.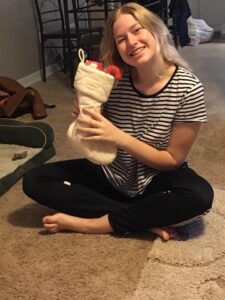 What we loved the most is the joy she seemed to bring to our home. We constantly had other children coming in and out visiting her. She did seem to connect the best with other exchange students, so not only did we get to experience a little bit of Germany, but we also were taught about Belgium, South Korea, and the Netherlands. Her and her friends were also wonderful at incorporating our daughter into everything they did. When it was prom day, all of the girls met at our house to get ready. My daughter came downstairs wearing her favorite dress and sat in the room with the other girls while they did her hair and makeup. They even encouraged her to join in on their prom photos. It made my heart melt!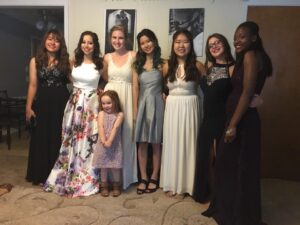 When it was time for her to go home, we all struggled with it. Her parents flew over from Germany to pick her up and explore the United States for a few weeks before returning home. They fit right in to our family as well. We bought the ingredients to make S'mores for them (something we learned are not common at all in Europe!) and her mother cooked us an amazing German meal. We were super sad to see her leave, but so very thankful for the experience. My daughter is now 7 and still refers to her as her "big sister." When people ask if she has any siblings she is quick to tell them, "I have a big sister named Marie who lives in Germany." We still talk from time to time and I would love to visit her in her home country one day (if life ever settles down for us).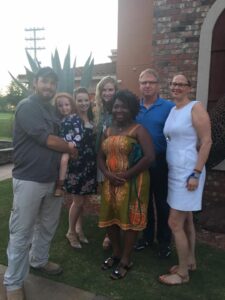 If you're considering hosting an exchange student I suggest researching organizations. In our experience we felt as though we did not have a lot of support after she joined our family. We heard of other organizations doing events w/ all the students in their area, but not for ours. It's also important to set boundaries, rules, and expectations ahead of time and remind yourself that they are in a totally new place. Also, keep in mind that it will affect your finances. You are responsible for providing them with shelter and nourishment. You are not paid to host a student. They cannot work or drive on their visas. However, most families send them spending money each month for toiletries and entertainment. Make sure they feel as though they are a part of your family and not an outsider. This is a completely immersive experience and something they may only get to experience once in their lives. Would we do it again? Possibly! But, for now, we travel the country on our own journey!