Here is an easy craft you can do with your little ones to celebrate the Valentine's Holiday, or just give as a gift to a loved one for a special occasion. With just a little guidance, this adorable canvas will be complete in no-time at all!
What you need:
How To:
With your paintbrush, use your brown paint to draw the trunk and branches of a tree. Set aside and let dry.
Squeeze a small amount of red & pink (or whichever colors your child has chosen) paint onto a small dish.
Using only your thumb, dip slightly into the paint and press onto tree branches in a "V" pattern to form a heart.
Add as many heart leaves as you wish. Set aside and let dry.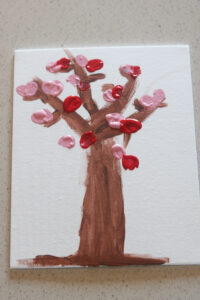 It may be fun to add a few heart leaves on the bottom of the canvas as if they have fallen off the tree. Be as creative as you like.
---
Coffee. Mom. Repeat. may earn a small commission via affiliate links in this post. You can view our whole disclosure policy HERE.